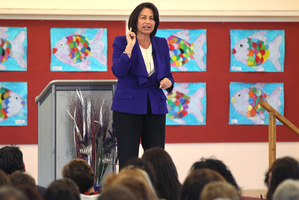 A university professor fears schools will use tricks to paint themselves in the best possible light, when National Standards results are published on a Government website from September this year.
The Ministry of Education will add National Standards data to the existing Government website Education Counts.
The site will not rank schools in league-table fashion but will show achievement data in regions and will show how individual schools are performing against the National Standards in each region and nationally.
Education Minister Hekia Parata says the data is "variable", or "ropey" as Prime Minister John Key puts it, which would make comparisons between schools difficult.
From next year, schools will be required to report in a consistent way - by whole school and by year level.
The ministry received National Standards data from 95 per cent of schools, and the information will be published on the website in the format that schools submitted it in.
"I accept that the data is variable. It is the first year, and no consistent format was required, so that was to be expected. It can only get better over time,"said Ms Parata.
Mr Key said at a post-Cabinet conference in July he was not opposed to data comparing schools within a similar decile or socio-economic grouping.
Mr Key said today "a good compromise had been reached by putting the data online, but he still thought comparing schools in the same decile group was valuable for parents.
"There is a lot of work to be done until it's meaningful," he said.
Ms Parata said the Government will not use the performance of schools to create league tables, but nothing was stopping the data from being used to create league tables.
Ranking schools on performance requires a national test which is not used in New Zealand. Australia has a national test, and presents the results on the My Schools website.
Labour Party leader David Shearer said league tables will leave parents misinformed not better informed.
"There needs to be accountability in the education system, but it needs to be based on accurate data which truly measures student progress."
Green Party co-leader Metiria Turei said releasing the data will lead to schools being ranked and judged on inaccurate data.
However Ms Parata said a Ministerial Cross Sector Forum has endorsed the move.
Teacher unions disagreed, saying the National Standards data was too unreliable to be published and will be used for league tables.
NZEI National President Ian Leckie says publishing the data online will unfairly create winner and loser schools.
In Auckland 300 primary school principals signed a letter from the Auckland Primary Principals Association opposing league tables.
Waikato University's Faculty of Education professor Martin Thrupp was one of 177 academics who signed an open letter to Government opposing using the data.
He said the announcement today effectively declared "game on for primary schools."
"It's an invitation for them to paint themselves in the best possible light and to do that quickly."
He said there will be an increase in the number of New Zealand children at or above National Standards.
"It won't be authentic improvement - because they will be teaching to the National Standards and there will be a lot of gaming around it."
"Schools will pull out all the shortcuts and tricks in order to paint themselves in the best possible light - that's what happens when things go public," he said.
Schools will provide National Standards data to the ministry by March next year - the date has been moved forward from May.
How it will look. The website will show:
- A disclaimer telling parents the data is variable for the next few years.
- School profiles, including details on the student population.
- Tables, graphs and text to show how well students are achieving against the National Standards.
- A tab linking to the Education Review Office report for the school.
- Achievement data in reading, writing and maths.
- The percentage of children well below the standard, below the standard, at standard and above the standard.
- Data broken down into Maori and Pasifika and male and female groups.
- Overall performance data against the standards in each region, as well as overall national performance.
- APNZ