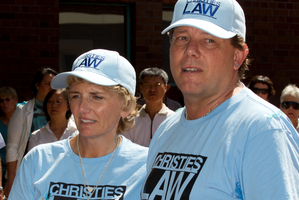 Murdered teenager Christie Marceau's mother has made an emotional appeal to a government Select Committee today in her bid to get bail laws tightened.
Tracey Marceau made a verbal submission before the Law and Order this morning, holding a small box containing her daughter's ashes as she did so.
The committee will continue hearing submissions to the Bail Amendment Act today and tomorrow. Other members of Christie's family will make submissions today along with members of the public and relatives of other victims of crime.
Christie, 18, died after a violent attack in her North Shore home on November 7. Mrs Marceau was at the house at the time and held Christie in her arms as the teen took her last breaths.
Police found Akshay Chand, 19, at the property and he was later charged with murder. The Herald revealed that Chand was on bail when Christie died. He was facing charges of kidnapping, assaulting and threatening her just two months before he allegedly killed her.
Mrs Marceau and her husband Brian teamed up with the Sensible Sentencing Trust and launched Christie's Law - a campaign aimed at getting tougher bail laws.
Speaking through tears, she told the committee that the day Christie died had destroyed her life.
"On November 7 2011 my heart shattered and my life changed forever. You cannot save my baby Christie, or me. But you can help the people of New Zealand," she said.
The committee also heard from others involved with Christie's Law, which was backed by a petition containing more than 60,000 signatures from people across New Zealand.
Committee members commended Mrs Marceau on her bravery in speaking under "incredibly" difficult circumstances.