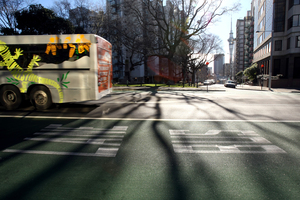 Auckland school transport will be spared serious disruption on Friday, but some commuters may be tempted to have extended happy hours before going home as an afternoon union stop-work meeting takes buses off the roads.
NZ Bus says the 70 per cent of the region's scheduled services it normally operates will be interrupted between 11am and 4.30pm that day.
The company said yesterday it had found enough non-union staff, including management, to maintain 147 school bus runs while drivers of the Tramways and First unions attend a meeting over failed pay talks.
But chief operating officer Shane McMahon says children who usually use scheduled services to get home should catch school buses on Friday afternoon until 4.30pm.
He said the company had "pulled out all stops" to maintain school runs, even if that meant keeping some commuters waiting to get home.
Disruption to commuter services would be unavoidable, but he hoped buses would be able to clear backlogs reasonably quickly after 4.30pm.
But the unions say NZ Bus could have spared itself and its passengers the trouble by observing an agreement for authorised stop-work meetings to be held at off-peak times at the company's expense.
Mr McMahon earlier denied the agreement required the company to sponsor meetings unlikely to lead to drivers accepting a pay offer, but First Union transport secretary Karl Andersen said it had gone back on the deal.
"We've got a signed agreement with them and it says meetings will be held during certain times at their expense, and they've reneged on it," he said.
"So if there's any unnecessary disruption, the fault lays directly and squarely with them."
Despite the company's prediction of disruption, Auckland Tramways Union president Gary Froggatt said he expected drivers would arrive back at their depots ready to resume normal services from about 3.30pm to 4pm.