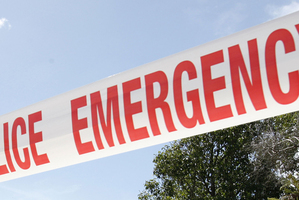 New Zealand's elite bomb squad rushed to Tauranga today after a grenade was found underneath a house.
Emergency services were scrambled about 2pm when a builder completing renovations on Harvey St found the fragmentation grenade.
Police inspected it and sent photos to the Auckland-based bomb squad. It did not have a detonator, pin or lever.
About half a dozen homes around the address were evacuated as a precaution.
Two bomb experts arrived at the Avenues address about 5.30pm. The house was down a long driveway, about 30 metres off the roadside.
One of the bomb squad members and police constable Shane Francis walked down the driveway to assess the grenade, which had been moved from underneath the house and placed in a garden at the front of the property.
About five minutes later, the two men walked back up the driveway. The bomb squad expert held the grenade in his hand.
The grenade, thought to be from World War II, was placed into a woven sack, put into a red, metal box and placed in the back of the bomb squad's 4WD.
A member of the bomb squad, who spoke to the Bay of Plenty Times on the condition of anonymity, said the grenade was inert.
"I can confirm it is a grenade or a fragment of a grenade. It's inert and there's no detonator and it's without the fly-over lever."
Additional reporting APNZ
- APNZ