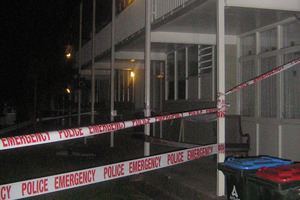 Barry Harwood prised the fingers of his drunken mate from a balcony handrail, and sent him to his death.
Harwood, 67, was sentenced at the High Court at Auckland today to three years and seven months for the manslaughter and assault of his friend Stuart Kingi in March, 2010.
The court heard how the pair had been drinking for 10 hours with two other friends at an apartment in the east Auckland suburb of Glen Innes.
Justice Murray Gilbert said Mr Kingi was only semi-conscious when he wet himself. Harwood stood over the drunken man, yelling obscenities and throwing punches.
Mr Kingi was moved outside to a chair on the balcony of the apartment but he was then forced over the handrail.
"He was attempting to pull himself back up when you forcefully prised his fingers from the handrail," Judge Gilbert told the prisoner.
Mr Kingi fell head-first on to concrete 3.9 metres below.
A neighbour who witnessed the fall called an ambulance while Harwood went back inside the apartment.
Kingi suffered a fractured skull and brain injuries. He died the next day in Auckland Hospital.
When Harwood woke the day after the death inside a police station, his only memory was seeing Mr Kingi lying on the floor in his own urine.
Justice Gilbert said Mr Kingi's family had been devastated by the death. He said Mr Kingi's parents had moved to Hawkes Bay to be closer to their daughter for comfort. Another family member had spoken of Mr Harwood taking "part of the family's spirit".
Crown prosecutor June Jelas asked the court to take into account the fact that the violence had been "bubbling away" for sometime and had started with Harwood assaulting Mr Kingi inside the house.
"The Crown submission is [Harwood] just wanted him to be gone and the deceased wasn't able to remove himself."
Harwood's lawyer James Boyack said his client's sister found it "ridiculous" that anyone could suggest her drunken brother could lift someone over a balcony.
He said the former plumber and drainlayer had a number of health problems that would make prison life hard, and he argued for a sentence of home detention.
Mr Boyack said Harwood had been diagnosed with prostate cancer and was also on a waiting list for a hip replacement.
He said his client had a serious head injury in 2003 when he was assaulted during a home invasion. A psychiatrist who had examined his client had found that the brain injury and the alcohol had led to his client's actions.
But Justice Gilbert said Harwood had been ruled fit to stand trial, despite the head injury. He gave Harwood time off his sentence for his early guilty plea but said the prisoner was in denial about his drinking problem.
Speaking from his new home in Havelock North, Mr Kingi's father, Anaru Kingi, said nothing the court could have done would have brought back his son.
"Of course, our family is very sad about the loss of our son but life goes on."
Mr Kingi - who could not be at the sentencing on account of his health - said his son is buried at the family urupa at Umupuia Marae in Maraetai.
- APNZ