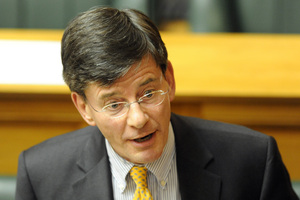 A group representing Ngapuhi and northern hapu are upset the Crown appears to be leaving them out when carving up the Auckland isthmus for Treaty settlements.
It has applied to the Waitangi Tribunal for an urgent inquiry into how the Crown is dealing with resources in the settlement process for Mahurangi and Tamaki Makaurau.
The claimants say Ngapuhi and others with strong historic ties to the area are being disregarded by a Crown "distortion of the tribal landscape".
The claimants - Marama Stead, Naomi Epiha, Joseph Kingi, Kingi Tairua, Teresa Orsler, Elizabeth Baker and Elizabeth Warren - have lodged their application on behalf of themselves and tupuna including Otene Kikokiko, Matatire Koroheke, Matui Ngau, Matire Toha, Te Rangi, Korokoro, Hua, Mate, of Te Taou, Ngapuhi, Ngati Hine, Ngati Rehia, Ngati Rahiri and Ngai Tahuhu, Ngai Tawake and Te Uri o Hau.
The application, dated August 4, claims the Crown obscured the traditions and lineages of key rangatira and created distortions by recognising other Maori. It says the Crown is trying to settle Tamaki without any meaningful reference to Ngapuhi "who are, in fact those with principal rights within the isthmus".
"The Crown's interests and title in Tamaki and Mahurangi rely substantially upon the prestige the Crown has chosen to impute to the Ngati Whatua rangatira," the application says.
The isthmus was a crossroads for iwi groups including Hauraki, Waikato, Ngapuhi and Kawerau, who had all occupied the area for many years.
"It is an area that does not lead itself to an analysis of tribal interests in a singular way," the application says.
The claimants allege the Crown is proposing disposals of land in north Waitemata for which there has been no hearing, inquiry or offer of settlement.
It is also claimed 75 per cent of Maori in Tamaki have Ngapuhi affiliations and less than 5 per cent are affiliated to Ngati Whatua.
For more articles from this region, go to Northern Advocate