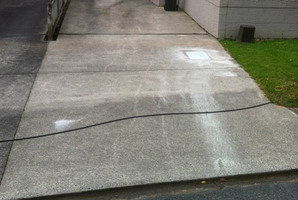 An Auckland woman was left fuming after a lines company put an unsecured cable across her driveway without warning or explanation.
Dolly Alvares, 53, said she tried unsuccessfully for more than a month to get Chorus, which split from Telecom in November, to remove the cable or even explain why it is there.
She said if she had not seen the network company's workman parked near her Lynfield home when the cable appeared on July 1 she would not have had any idea who put it there.
Multiple phone calls and letters of complaint had failed to get Chorus to take action on the "bizarre" situation.
Mrs Alvares said two people had already tripped on the cable and only narrowly avoided a fall.
"It's so annoying, I have half a mind just to take some scissors and cut it. But I don't know what it's doing there - it could affect somebody else.
"Every time I walk out my driveway I've got to be so careful that I don't get my toe stuck in that cable."
She has written to members of Chorus' management, who she felt would not tolerate the same situation outside their homes.
"I can't see them having it for weeks sitting outside their driveways. Where is the health and safety?"
Mrs Alvares said that after she rang Chorus to complain, numerous times, a field manager eventually visited her property.
He appeared to have moved the cable further down towards the footpath and left a message for her.
"All he said is, 'It's work in progress, and if you have concerns give me a call back. I've left my card in the mailbox.'
"I called the next day and got his voicemail. So I left a message saying, what does work in progress mean? It could be until the end of the year ... Nobody has called me since."
Yesterday, after Herald inquiries, a Chorus spokesman said he was contacting Mrs Alvares to apologise.
He said the cable was put in to temporarily maintain phone and broadband services for some homes in the street after an underground cable developed a fault.
Mrs Alvares said Chorus left a message on her phone about 5.40 last night saying it would be working on the cable this morning, but had still not told her what it was for.