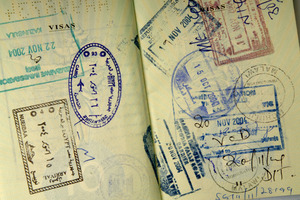 New Zealand Tongan community leaders say Pacific Island overstayers are taking up jobs that could help their family members move here, and have pledged $1000 as a reward for information that leads to the arrest of people behind visa scams targeting the community.
Several cases have been reported of people promising Tongan overstayers visas to remain in here in exchange for cash payments.
Hundreds have been fooled into believing they can buy residence visas, and the number of Tongan overstayers has increased from 2181 in 2008 to 3109 last year.
An annual immigration quota system, the Pacific Access category, was started in 2002 as a pathway for 250 Tongans to migrate to New Zealand each year.
But despite its popularity, few in the community are able to gain residence through the scheme because they are unable to meet the requirement of finding a job.
"There are only so many jobs in New Zealand for Pacific people, and many of these have gone to overstayers who are taking under-the-table cash payment that's under the minimum wage," said community activist Will 'Ilolahia.
"This is stopping many from bringing their family members over because the jobs that should be for them have gone to the overstayers."
Mr 'Ilolahia said Tongan leaders have been urging the community to work with authorities, and several meetings have been organised to encourage people in the community to expose the scammers.
He said the visa scammers were crooks who preyed on desperate people who were trying to get a better life.
"We now know who they are, and we have given their names to immigration and the police," he said.
"We think that some people in the community may be hiding them, and hope the reward will be an added incentive for them to do the right thing."
Immigration issued a warning in June about fraudsters selling fake visas to Tongan overstayers for $290.
Last year, overstayers from the community were also targeted by scammers who claimed they had the the right to issue residency visas under the authority of the "Sovereign Maori Government of Aotearoa".
The chairman of the Tongan Advisory Council, Melino Maka, said he had received information that the main person behind the fraud was "hiding up north".
"We are now sending a message through churches and marae there, and using social media like Facebook to urge the community to expose her whereabouts," Mr Maka said.
Immigration general manager risk and integrity Peter Elms said purchasing fake visas was a criminal act, but "in cases where an overstayer is assisting authorities with a criminal investigation, due consideration will be given to balancing their status with the need to support any judicial process".
The Samoan community has the most overstayers at 3509.