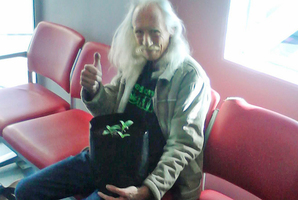 Stories making headlines across New Zealand at noon include the consequences of Brian trying to get the cops to look after his dope plants, the new Miss Universe NZ speaks out and reaction to a ban on hugging at two intermediate schools.
In the "cannabis capital of the country", Brian Borland gave the thumbs up to cameras in the Whangarei police station while cradling his baby cannabis plants in his lap, which he apparently hoped police would look after while he went to jail.
The new Miss Universe NZ, Ms Talia Bennett, says it is unfortunate Avianca Bohm was stripped of her crown but she is "more than happy to step forward".
This bloke reckons a ban on hugging at two Tauranga intermediate schools is a "load of old codswallop."
Meanwhile a zombie lover is due to give a talk in Rotorua this month.
Nine year old children are taking drugs at school.
In Tauranga, there's hope for retired men who are shunted into little units where there's nowhere for their tools or a workshop space.
A Tauranga street parade for super rugby champions the Chiefs is up in the air. But Hawke's Bay thinks the Magpies won it and are keen for a parade. Apparently Hawke's Bay rugby can quite justifiably claim a piece of the trophy. Meanwhile the cowbells are still clanging in Hamilton.
A Gisborne policewoman who needed stitches after she was punched in the face is "disillusioned".
Richard Goodley required skin grafts to his arm, pins were inserted into his leg, which is held together by scaffolding, and the front part of his skull was removed to help reduce the swelling pressure on his brain. He is missing 20 days of his life.
After more than 40 years, details are now emerging of alleged destruction of gravestones at Makaraka Cemetery.
There's been no emergency accommodation for homeless people in Wairarapa since 1998.
An arsonist appears to be on the lose in Featherston.
The big question at Pukaha Mt Bruce is whether Turua will start flirting with Manukura.
Tinui firefighters no longer have to worry about whether their fire truck will work when they show up to a fire.
The stench of human faeces and urine in Wharf St, Wanganui is coming from a thicket of bushes and flax above the slipway.
Meanwhile the Wanganui Mongrel Mob is on Facebook, but police don't expect them to post what they are doing. Oamaru police have meantime not ruled out jumping on the social media bandwagon.
And Riley the standard poodle easily cleared the jump during the Mid Canterbury Canine Obedience Club's ribbon show yesterday.
If you are in Dunedin Hospital it may pay to ask the staff looking after you whether they have washed or sterilised their hands.
The future of the Oamaru Courthouse remains unknown.
After he urged Catholics to oppose a new abortion clinic for Invercargill, the Most Rev Colin Campbell has received some "nasty" emails.
As his former partner and nine children watched on, a 50-year-old Greymouth man has admitted to brutally assaulting and threatening to kill them.
-Herald Online