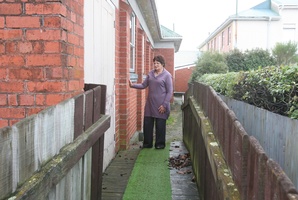 The need for emergency housing in Wairarapa is so desperate some community agencies are twisting their clients' stories to get them into Women's Refuge.
Refuge manager Lynn Buckley said with no emergency housing in the region, she fields phone calls from other agencies looking for short notice, short-term accommodation.
"They twist the story sometimes but we don't want those people. We're happy to be dealing with family violence, but not people who've got nowhere else to go."
Mrs Buckley said it was not an issue of capacity but that their focus was on family violence.
Social service agencies spoken to by the Wairarapa Times-Age said there had been no emergency accommodation in Wairarapa since 1998, when the Salvation Army closed their Lincoln Rd shelter.
Wairarapa Hospital's social work team leader Lorraine Katterns said emergency accommodation was a particular issue for adults under 60 who were not eligible for council housing.
"Often it is transition accommodation that is required until people address social concerns and make longer term decisions and work out where they want to be, given the options available to them."
Mrs Katterns said that as the level of poverty within the community increased they were seeing more people who could not find shelter. "I have had clients during the past 12 months who have been living in cars because they are desperate."
Masterton Christian Childcare Centre recently made a submission to Masterton District Council about two homeless men who had been "inhaling petrol or drinking" at the back of St Luke's Church.
Social worker Frances Dearnley said staff believed the men used to sleep outside the St Vincent De Paul shop, which closed last year.
Although they had called police several times, the men came back time and time again.
"In a dream world, we'd like to have some kind of night shelter but it's probably not possible."
She said one viable option was a soup kitchen, so at least people were getting a meal, but the centre was not in a position to offer that.
Siobahn Garlick, manager of mental health and addiction service New Directions, said there were a small number of housing options but they were not easily accessible at short notice.
"Some of our people have been released, been in the mental health unit in Lower Hutt and come back here to nothing, sometimes they're transient.
"We'd like to be able to offer them overnight accommodation."
She would like to see a four- or five-bedroom house set up as emergency accommodation.
A Corrections Department spokeswoman said a small number of offenders had trouble finding short-term accommodation in the Wairarapa but Corrections worked with them to find suitable accommodation.
A Housing NZ spokesman said the corporation was not an emergency accommodation provider, though it kept a list of providers. None was listed in Wairarapa.
For more articles from this region, go to Wairarapa Times-Age