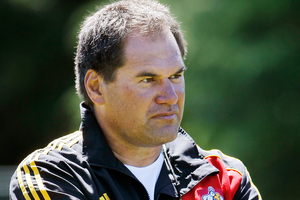 Chiefs coach Dave Rennie believes he may have been targeted by burglars who knew he would be away from home at Saturday night's Super 15 final.
Burglars got in at the back of Rennie's family home in Huntington, Hamilton, while the Chiefs destroyed the Sharks 37-6 at Waikato Stadium to become Super 15 champions.
Rennie's wife was alerted to the break-in about 10.30pm by neighbours who saw that a ranchslider was open at the back of the house.
She called her husband shortly afterwards as the team celebrated at the stadium.
"They'd broken in with crowbars by the looks of it, done a fair bit of damage to get in through the window and then used crowbars to get the safe out and did a bit of damage in the bedroom, too," Rennie told APNZ.
The safe contained some foreign currency and his wife's jewellery.
"They're worth a bit, but it's more the sentimental side of things. A lot of our anniversary presents, things along those lines."
His wife was "devastated" by the theft.
"It did put a dampener on things. We went home as soon as I found out and then saw the police for a while, but we decided to go back and catch up with the team and have a drink. We didn't want to ruin the night or anything so we thought we'd worry about that in the morning."
It is not the first time a Chiefs member has been robbed during a home game.
In May, the team's star centre, Sonny Bill Williams, came home after playing the Bulls to find he had been robbed.
Rennie feared this indicated they had both been targeted by burglars.
"I'd be surprised if I wasn't (targeted). They'd come prepared," he said.
"I don't think it's a coincidence. Obviously they've realised that we won't be around."
Detective Sergeant Neville Ross called on Chiefs fans to help catch the thieves.
"It was this same community being served by Mr Rennie's team in terms of a positive lift to the region with the Chiefs' win and we would like our Chiefs fans to be our eyes and ears on this matter," he said.
Among the items taken were three nine-carat gold bracelets, a nine-carat gold necklace and a 14-carat gold bracelet.
Anyone with information was urged to call Hamilton police on (07) 858 6200 or call Crimestoppers anonymously on 0800 555 111.
- APNZ