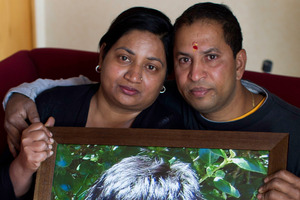 Looking over at a giant photo of his son - surrounded by flowers and candles - Karna Rajan smiles sadly as tears begin to roll down his face.
It is just over two years since his eldest son, Tarun Naicker, was killed in a car accident, but the pain is raw.
So when he and his wife, Kamlesh, received a letter asking them to remove a memorial cross they had put up at the spot where Tarun died, they were distraught.
"They said it was distracting. But you wouldn't notice it unless you knew it was there," Mr Rajan said.
"I couldn't understand it. It's just a cross. It's not doing any harm to anybody. We put it there because that place has importance to us. That's where Tarun died."
The 20-year-old student was one of five people travelling in a Honda hatchback that rolled on Auckland's Southwestern Motorway in April 2010.
He had plans to be a chiropractor and was set to graduate from the University of Auckland with a bachelor of science. He was also excited about turning 21 that year.
He was the only one killed and police not charged anyone.
Mr Rajan and younger son Ameet Naicker made the memorial cross and erected it soon after the accident.
The words "Tarun Naicker" are written on the small white cross as well as the date "23.04.10" - the day Tarun was killed.
The letter sent to the family was from the New Zealand Transport Agency, which wrote that the cross had to be removed as it was a possible hazard for motorists.
Memorial crosses are generally not allowed on New Zealand motorways, but are permitted on highways and other roads.
Despite that, white crosses and floral memorials can be seen along Auckland's motorways.
Mrs Rajan said she wanted the authorities to understand what having such a memorial meant to families of victims.
"For us, something happened there. That was the last place Tarun was here. We just want to acknowledge that."
Mr Rajan said it was unfair that his son's cross was being targeted and felt that the agency needed to come up with one rule for all.
"Why this cross? Why my son's cross? There are so many other crosses on the motorways all the way to Hamilton - why don't they just take all of them down? It's not fair.
"They called me to say they were going to remove it by the end of the month. I told them: 'Don't you touch my son's cross. That's not right'."
Acting state highways manager for Auckland Steve Mutton said the agency did try to accommodate requests from families for memorial crosses, but there was a need forbalance.
The agency was working to find a resolution to allow Tarun's family to remember their son "that does not pose risks to other road users", Mr Mutton said.
"We have to balance this with our responsibility of protecting other road users from distractions and potential hazards."