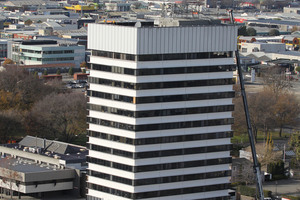 A quake-damaged building will today meet its end - almost 150 individually placed charges.
The Radio Network Building in central Christchurch will be demolished when young Jayden Halliwell pushes a green button.
Halliwell, who has cancer, was chosen after a Trade Me auction and the event will be live streamed on TV websites.
Demolition starts at 8am, pending police approval. In all, 140 charges will be drilled into the building columns on multiple floors.
"The implosion sequence starts at the lowest level," Controlled Demolition Inc president Mark Loizeaux told the Herald on Sunday. "I expect the overall detonation of charges will take about 13 seconds."
A protective layer of fabric and fencing will be wrapped around columns to contain blast forces.
Loizeaux urged rubberneckers to stay away. " I would like everyone to sit at home and read about it in your newspaper. This is not a spectator sport."