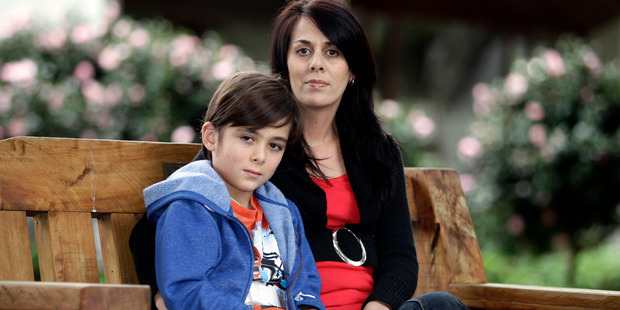 Mardia Ryan was told her son might not pull through.
Jake Sparke dashed from a skatepark on his scooter and smashed head first into the door of a passing bus in his Rotorua hometown on June 30.
The 9-year-old was taken to Rotorua Hospital before being flown by rescue helicopter to Starship Hospital after it became clear he'd suffered a serious brain injury.
Put in an induced coma, his parents, Ryan and former partner Mike Sparke, were told to prepare for the worst.
But their fears eased as Jake emerged from his coma and saw his uncle wearing an All Blacks jersey, Ryan said.
"He thought the All Blacks had come to see him. He asked who it was and we said Richie McCaw. Jake put his hand out to shake his hand and that's when we knew our boy was still there."
Although McCaw wasn't there, Jake did meet All Blacks vice-captain Keven Mealamu.
The pair played Connect Four and settled the match with a 1-1 score.
Jake can't remember his accident, but is making good progress at The Wilson Centre in Takapuna.
He has already been back on a scooter, but will remain at the Wilson Centre until the end of the month. Full recovery is expected to take two years.
Ryan wanted to thank everyone who had helped them, particularly Reesby Buses, whose bus was involved in the crash. The driver was not charged.
"They've been great and there's no ill-feeling there. We know it was an accident."
However, she questioned why the skatepark was built at the intersection of busy streets. She wanted a barrier to encourage children to use a nearby controlled crossing.
Rotorua District Council works manager Peter Dine said no one had complained before Jake's accident but he had since been told children often ran across the road.
Council staff will erect a fence around part of the skatepark in the next month.