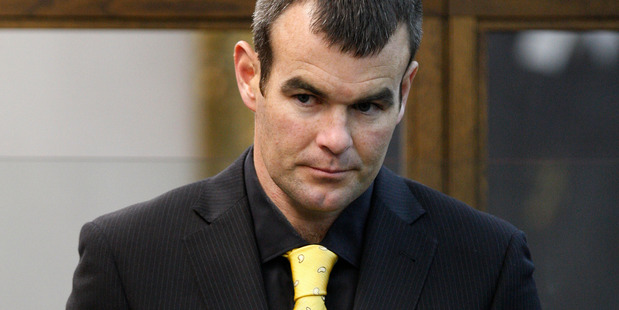 Slain farmer Scott Guy drunkenly told his older sister that Ewen Macdonald was the worst thing that had happened to their family and the farm would be better off without him, evidence withheld from a jury reveals.
Details of the statements emerged after Justice Simon France yesterday granted the Herald's application to view court documents on the murder trial held after the Feilding farmer's death.
The decision comes exactly one month after a jury in the High Court at Wellington found Macdonald, 32, not guilty of murdering his 31-year-old brother-in-law, who was shot dead in the driveway of his Feilding home early on July 8, 2010.
The two boxes of court documents include thousands of pages of judgments, minutes, court applications, briefs of evidence and almost 50 statements to the police.
In her brief of evidence, Mr Guy's older sister Nikki said her brother drunkenly confided to her what he thought of his brother-in-law.
Nikki Guy said there was a rivalry between the two that she noticed in "off-hand comments".
One such comment came when the siblings went to a concert in Martinborough together in December 2008, a little over a year and a half before the murder.
"Scott came over and started talking. He was in a really happy, chatty, charming mood and appeared to be having a good time," Ms Guy said.
"During our conversation he told me how much he disliked Ewen and thought the farm would be better off if he wasn't there.
"He said that Ewen was the worst thing that happened to our family.
"Scott always wore his heart on his sleeve and would say what he thought."
But Ms Guy was unable to give evidence on the comments at the trial.
In a judgment issued on June 14, in the second week of the trial, Justice France declined Crown prosecutor Ben Vanderkolk's application for the evidence to be heard.
Defence lawyer Greg King had objected to the evidence on reliability grounds, saying Nikki Guy had told police about the comments only after Macdonald's arrest.
Justice France noted Mr Guy was "intoxicated and probably affected by drugs" at the time he made the remark and Ms Guy had indicated she was uncomfortable with the topic.
'He must have mental illness'
The documents reveal Mr Guy's father, Bryan, could not believe Macdonald had vandalised a house being built on Scott and Kylee Guy's property even after he pleaded guilty to criminal damage.
"If Ewen hadn't admitted doing the damage I would struggle to believe that he had," he said.
"I hadn't seen any real sign of a real grudge or resentment against Scott and Kylee."
He said Macdonald was "the last person we would suspect of doing it".
"I thought it was all quite sad, really, and that he must have some sort of mental illness to do such things. It's probably the only way I can reconcile it in my own mind because it's not the behaviour of the Ewen we know."
He said the damage had been devastating to Kylee Guy.
"The words written on the house seemed so unlike Kylee that it almost made me believe whoever wrote it didn't know whose house it was."
What led to the other charges
For months, two lower North Island farms were plagued by poachers working under cover of darkness, killing deer and removing their heads.
The same shoeprints were left by two people every time, sometimes as often as every two weeks.
One night, a white ute was spotted on one of the Foxton farms.
It was empty, but a letter on the dashboard read "Scott Guy", so neighbouring farmer Paul Barber telephoned Bryan Guy.
But Scott wasn't using the vehicle - Ewen Macdonald was.
"I was somewhat pleased that I had solved what was becoming a bit of a local mystery," Mr Barber said.
Macdonald's family friend Nigel Sexton, who operated and lived on the targeted Foxton farm with his father, Graham, recalled Macdonald said he had been filming and taking photos of deer.
But Nigel Sexton told police last June that he phoned Macdonald's father, Kerry, and asked him to bring Macdonald, and his accomplice Callum Boe, out to the farm with the stolen deer heads.
"I vividly recall Ewen Macdonald explaining the poaching by saying that it was easy and that our property wasn't the only one he poached on."
Paul Barber, whose property was next to the Sextons, also found deer carcasses on his property with heads and back legs removed.
Police were never involved, and the matter appeared to have been dealt with by way of an apology and a handshake.
Six weeks later, it became clear the handshake did not fix everything.
Again at night, Macdonald and Boe went on to the Sextons' property and emptied their main milk vat of about 16,000 litres of milk worth tens of thousands of dollars.
Then they went to Mr Barber's property and slaughtered 19 calves with hammer blows to their heads.
"I was sickened by what I saw had happened to the calves," Mr Barber said.
Killing calves in such a manner was a quick, effective and common method, he said.
And Macdonald knew how to do it.
A part-time worker on the Guy family farm, BJ Worthington, told police Macdonald taught him in 2008 how to hit a calf on the head and kill it.
"He demonstrated it without actually doing it - as there was only one calf to do, he left it for me to do.
"I have done it once and I didn't enjoy it one bit."
About six months later, the Sextons' duck-shooting whare, which was built in 1888, was burned to the ground.
"When police attended, I showed them some shoeprints that I thought were very similar to the ones that I had seen around the area of the milk vat when it was emptied in August the previous year," Nigel Sexton said.
He told police who he thought was involved - Ewen Macdonald.
Macdonald has pleaded guilty to killing the 19 calves, destroying the milk and burning down the 110-year-old whare - charges that a judge ruled should not be revealed to the murder trial jury, partly because they would have been prejudicial.
Previous charge
The jury in Macdonald's trial was told of another of Macdonald and Boe's "missions", in which they stole two deer from a neighbouring farm.
The pair pleaded guilty to charges over that incident.
But the documents also reveal another alleged poaching incident that was not revealed at the trial.
Kerry Macdonald told police he knew of the Sexton farm incident, and another in the Rangitikei area in 2009.
Macdonald and Boe flew by helicopter to public land, then waded through a river on to private land.
There, they shot a deer before being caught.
Kerry Macdonald said his son was charged by police, appeared in court and got diversion.
"Ewen didn't tell me about it until I asked him.
"I had heard a rumour."
No on-going problems arose from the poaching incidents, he said.
"I lost a good hunting spot - that's the only problem."
The documents show Kerry and Ewen had been allowed to hunt on the Sexton farm previously, and Ewen had been "quite excited" about the trophy deer.
The Sextons began to suspect Ewen Macdonald was involved in the poaching because it started soon after he was invited to the farm.
"It seemed to me that whoever was doing the poaching was spending a lot of time on the property; in fact the area they covered would take up to five hours to walk," Nigel Sexton said.
Macdonald is to be sentenced next month in the High Court at Palmerston North on the six charges he has admitted.
Boe has appeared in court and was sentenced to two years in prison.
- APNZ