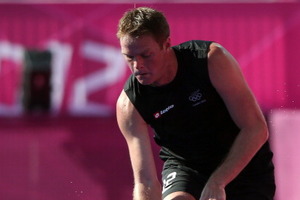 Many members of the Olympic team have had to fit their training in around earning a living
A few of them sit behind a desk crunching numbers all day, one directs planes over Invercargill and another teaches a classroom of children aged 8 and 9 - but they're all taking a break from their routines to compete in the Olympics.
Many of the 185 athletes in the New Zealand team haven't given up their day jobs despite the countless hours spent training to prepare for the Games.
The children in Black Sticks defender Bradley Shaw's classroom at Christchurch's Mairehau Primary School have been Skyping, texting and emailing him since he left for London.
Andrea Champion, who is filling in for the 29-year-old teacher, said they were monitoring updates on his Facebook page and read one in which he said he was staying in a room on his own.
"We emailed him 21 questions, and he answered every single one. We had ones like, 'Why did your roommate leave? Was it because you farted too much?' He said, 'How did you know?"'
Ms Champion said the children enjoyed watching replays of his games.
"They miss Mr Shaw. We saw him at the flag ceremony because he was at the front and he gave a great big wave and we know in room six that that was for us.
"He had a shave before he went on Skype because he thought the kids might not recognise him."
Several of Shaw's teammates have other careers as hockey is not known to bring in a big pay cheque.
Captain Dean Couzins, 31, and goalkeeper Kyle Pontifex, 32, both work for ANZ Bank and 27-year-old midfielder Andy Hayward works in Fonterra's sales team at its milk and yoghurt plant in Takanini.
His boss, Bruce Barrett, said his colleagues had been keeping newspaper clippings while he's away "to give him stick".
Many athletes keep other jobs as some sporting codes have rules about only amateurs competing. No professional boxers or wrestlers can compete and in men's football, only three professional players over the age of 23 can play in a team.
Others Kiwi athletes behind desks include Football Ferns defender Kristy Hill, who works as a lawyer for the Independent Maori Statutory Board in Auckland. And when sailor Jenna Hansen isn't on the water, the 25-year-old works as an accountant at PricewaterhouseCoopers.
Shooter in the men's 50m rifle prone Ryan Taylor, 32, works as a builder for his family's business, G & E Taylor Construction in Levin.
His mother, Liz Taylor, who stayed behind to run the company while her husband, Grant, went to London, said her son was a hard worker.
"He's an absolute perfectionist, it's totally got to be right. He'd be a good man to build your house."
Sprint cyclist Natasha Hansen, 22, has been working as an air traffic controller at Invercargill Airport since 2010 after her coach Jerard Stock convinced her to move to the South Island city, which is home to the country's only indoor velodrome.
Surf lifeguards are represented well with Tash Hind, Dylan Dunlop-Barrett, Andy McMillan, and Steven Kent all making the swim squad.