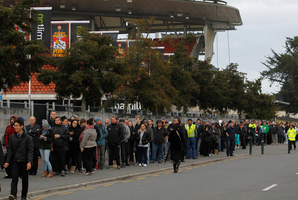 The Chiefs rugby franchise wants the Government to consider widening laws against scalping after a backlash against people charging big prices for tickets for tomorrow's Super 15 Final.
Commercial and marketing manager Sean Austin said the Government should consider bringing Super 15 within the Major Events Act.
The legislation was passed before the Rugby World Cup to ban scalping tickets for events that attract a large number of international participants, spectators and media, generate tourism opportunities and raise New Zealand's international profile.
"As someone that's running a final ... and seeing the effect of the large amount of scalping that's happening, I would have to say certainly it is something that should be considered," Mr Austin said.
"Currently our legal recourse in terms of actually tackling the scalpers is zero; the only thing we can do is if we can identify a ticket that has been purchased from a scalper then we can cancel it so it can't be used to gain entry."
Ticket scalping meant some diehard fans would miss the final, he said.
"This is such a unique event that we could have really charged a premium but we didn't want to make it unaffordable for the fans who have been supporting us throughout the season. It's really disappointing that people will miss out because of people trying to make money."
An APNZ reporter posing as a buyer arranged to meet one reseller in Auckland who had been offering two $55 tickets for $320 each on online auction site Trade Me.
After the reporter identified himself, the seller said he was offloading the tickets because he had been allocated seats in the wrong section of the stadium due to a mistake by ticketing agent TicketDirect.
"It is [a big profit] but if you look at it from my side, TicketDirect made a mistake and I've got two tickets that aren't where they're meant to be and I need to get rid of them.
"I made an offer to you and you wanted to take it. I'm a poor student," he said.
Adult tickets for the sellout game against the Sharks in Hamilton were being sold by TicketDirect for between $20 and $120 plus service fee.
Reselling tickets is not illegal but the man pulled his auction after a huge backlash from other Trade Me members.
"People like you make me sick, its so unfair to the supporters who tried to get tickets," said one.
"If your just trying to sell tickets why not put buy now at the price you paid for them? Oh I know because your greedy," said another.
Another trader sold four $20 tickets for $1010.
Nick Brown, NZRU general manager of public affairs, said it had not experienced scalping during this year's Super Rugby season.
"However, we would be very disappointed if true rugby fans wanting to support the Chiefs in this weekend's final were being unfairly targeted by individuals looking to make a quick buck through this practice."
A Trade Me spokesman said last night there had been 42 listings for final tickets this week, and 18 auctions were active.
"It is legal to on-sell legitimate tickets, so Trade Me's position is that we have always allowed them to be sold," he said.
"Tickets are a tiny money-spinner for Trade Me. Revenue is not a factor in our decision to allow tickets to be sold."
TicketDirect did not return calls.