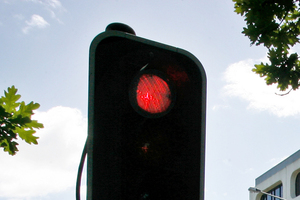 Instant fines and demerit points are in store for red-light runners and drivers who take on orange lights as Hamilton police promise to crack down on a worrying number of intersection crashes.
The officer in charge of the Hamilton strategic traffic unit, Sergeant Phil Ruddell, said motorists who drive through red lights would be instantly fined $150, and police would also be issuing tickets for people who ran orange lights late.
"Pretty much if you get pulled over you can expect a ticket - $150 for a red and we are also issuing those people who go late through the orange with tickets too."
"We accept that you can't stop instantaneously but if they are making their way through an intersection and it turns red before they get out of the intersection, then they would have had time to stop."
The measures are part of a police operation this month in an effort to reduce the worrying number of intersection crashes.
A police survey reveals there were 184 intersection crashes in the city's 50km/h zones between 2007 and last year causing serious injuries to 12 people and minor injuries to another 49.
These crashes make up about 70 per cent of police call-outs each year, and they say a lot are caused by f people failing to stop for red lights or at controlled intersections - including one last year in which a driver failed to stop at the intersection of Kent and Hall Streets in Frankton that led to the death of an 84-year-old driver.
Police working with the Hamilton City Council and the Transport Agency said the intersections with Mill St/Willoughby St the worst blackspot in the city with eight crashes over the survey period.
Council figures showed the social cost of each crash - calculated on the attendance of ambulance, police, and fire and the cost of hospital and ACC treatment for victims - was $248,000.
Acting Sergeant Steve Jones said that the operation was about modifying behaviour and keeping people safe.
He said electronic road sign trailers had been set up around the city warning drivers about running red lights.
"But despite this, yesterday [Wednesday] during the first day of the operation officers at the intersection of Bridge and Victoria Streets picked up six red light runners and issued them infringement notices as well as arresting one driver wanted on warrants."
Mr Jones said most drivers were positive about the operation's objectives, if not a bit embarrassed to be caught out, but some did dispute they were at fault.
But each driver's breach had been photographed before they were stopped.