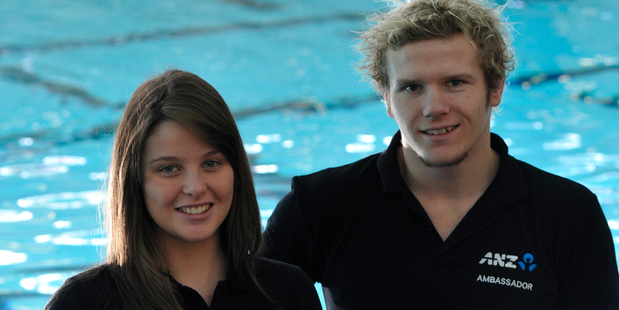 Rebecca Dubber, 19, and Cameron Leslie, 22, are two hot favourites to win medals for New Zealand at the Paralympic Games, which start at the end of the month.
Dubber was born with a rare spinal condition similar to spina bifida, Leslie with a quadruple limb deficiency.
They depart in 10 days for London to represent New Zealand in swimming at the Paralympics. Leslie was also on the Wheelblacks team who failed to qualify due to a controversial reclassification.
Much is expected of the boy from Whangarei, who won gold at the 2008 Paralympics in Beijing, setting a world record for the men's 150m individual medley.
Paralympics director of swimming Malcolm Humm said Leslie is on track to repeat his performance. "Cameron was a gold-medal winner in Beijing and since then, broke his own world record. He's favoured to win gold again in London," he said.
Dubber said being selected for her first Paralympics was a huge honour.
"It's a real privilege to be chosen and I've worked so hard to get here. When I got the call [from selectors] I was almost in tears, I was so happy."
Her road in London will be tougher. "She is definitely medal potential, but she will need to be at her best on the day," Humm said.
Leslie and Dubber dream of competing at the Rio Games in 2016. But for now, it's preparing for London. "I'm trying not to let the pressure get to me," Dubber said.
Leslie admits the emotions take a toll. "I want it over with. You put your heart and soul into something for so long, you just want to prove yourself and get your life back."
A holiday around Europe beckons post-Games for Leslie. Dubber and her parents will be flying home to the North Shore. "I've got uni," she explains.
Dubber is studying for a communications degree at AUT and plans to enter journalism - "or maybe PR, whichever pays more," she jokes.
Leslie will take up a role as sports reporter at the Northern Advocate when he returns.
TRADING BLOWS ON TWITTER
No strangers to fisticuffs and frank debate, National MP Tau Henare and Labour MP Trevor Mallard lashed out at each other on Twitter on Wednesday, leaving one unimpressed follower labelling the scrap as "too many dicks on the dance floor".
Mallard, who had earlier been told off by the Speaker in the House, was goaded by Henare. "No bites today [on Twitter] from big Trev. He got a big telling off from Speaker. Gone all shy now ... chicken, not a duck, aye Trev?"
Buttons were pushed. The Labour MP was up for a row. Barbs and insults started flying. If Parliament is a schoolyard, these two are its resident bad boys.
Five years ago, they came to blows in a lobby at Parliament and had to be prised apart after Henare taunted Mallard in the chamber about his private life.
A Wellington accountant brought a private assault prosecution against Mallard in relation to the scrap with Henare which resulted in the Labour MP pleading guilty to fighting in a public place. He agreed to donate $500 to a Salvation Army drug and alcohol rehabilitation course.
Evidently no lessons were learned. But then Parliament is anything but a charm school.
The bovver boys continued their cheap shots on Twitter with accusations of anger management needed. "The bottler gone quiet now," Mallard taunted. "What's that chicken little?" Henare teased.
Most followers on Twitter were bemused that the politicians were dishing up gibes and personal insults on a public forum. Others were unimpressed.
"Cut it out you two. You are there for us not some private sh*t fight," tweeted Auckland stalwart Hamish Keith, seemingly to deaf ears.
The MPs retorted: "don't follow us on Twitter, then.
Also calling it tough was NZBen, who tweeted: "Meanwhile Mallard and Henare wonder why more and more young people are voting Green."
You wouldn't find Greens co-leader Russel Norman trading low-blows with opponents on a public forum. But Mallard and Henare, who share a healthy sense of naughty humour, told The Diary it was all in jest.
"We were like two little boys or two old men having a beat-up in a public place on Twitter," Henare laughed. "No harm done."
Said Mallard: "Tau and I have been known for our battles, but I prefer not to go Tau to Tau with him."
FIRST SON IN WORLD SERIES TITLE BID
While his father played DJ on RadioLive yesterday interviewing former Aussie prime minister John Howard and British broadcasting legend Sir David Frost, son Max Key was preparing for the game of his life.
Max is a member of the national under-17 baseball side who will represent NZ at the Senior Little League Baseball World Series in Maine.
John and Bronagh will jet to the States next week to support their boy.
Last month, the team played in the Asia-Pacific regional tournament in Guam, defeating Saipan, a US territory in the northwest Pacific, to win the competition. "They are the first New Zealand team ever to win," his proud dad told The Diary.