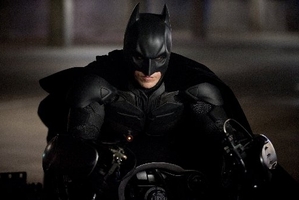 Stories making headlines across New Zealand at noon include citizen crimefighters possibly motivated by Batman, the tenants from hell, and the Government's Whanau Ora programme allegedly funded gang drug dealers.
After they finished watching The Dark Knight Rises, Dunedin movie patrons chased two wine thieves through the streets and made a citizen arrest.
Sloane Coleman's experience as a first-time landlord was ruined when the "tenants from hell" moved in and it proved very difficult to boot them out.
When Alphaomega heard over the police scanner that the cops were chasing his father, he decided to mount a rescue mission.
Mongrel Mob members allegedly used funding from the Government's Whanau Ora programme to buy cannabis for drug-dealing.
Pakotai woman Sue Girven knew something was wrong when Nosey woke her up and started crying loudly.
Northlanders are about to make a big contribution to the Aussie migration statistics. Meanwhile Whangarei District Council's plans to start charging those left behind to park at the Town Basin have hit an embarrassing glitch.
It's a sorry place for the resting ground of anyone, let alone the first Governor of New Zealand, Captain William Hobson.
A person was hit by a train and died early this morning in Bay of Plenty.
Twitter groupies were left scratching their heads when @BOPPolice suddenly published an advertisement for diet pills.
Before you pop any ecstasy pills you might want to consider whether you are playing 'Russian Roulette' with the new ingredients.
After surgery and six months of gruelling chemotherapy, there's a happy ending for 5-year-old Cory Josephs.
Northlanders are getting behind their five hockey Olympians as they prepare for "The Pool Of Death."
Meanwhile Hawke's Bay is under water. So is Wairarapa.
Wanganui mother of five Miriam Gilbert wants to get rid of 15kg of excess skin that is "ruining her life."
If your dog is poisoned during a Hawke's Bay regional council possum control program the council says it will pay your veterinarian bill.
After 30 years of frolicking in Masterton's Queen Elizabeth Park, a colony of cats has come to the local council's attention.
At this stage, Carlton School student Blake La Roche doesn't know what he wants to do when he grows up: "I really need to think about it."
Meanwhile it was a lazy day at Gisborne Skate Park.
Is this your toilet?
Top trending topics on Twitter in NZ at noon included: #DJJohnKey, #DontYouJustHateWhen, #SH2FUBAR, Pacific Fibre, Petone, Hutt, Wellington, #First20SongsOnShuffle, #wdcnz and #London2012.