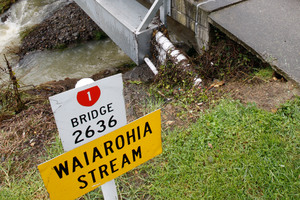 The identity of a 29-year-old man accused of murdering a woman found beneath a Whangarei bridge can now be revealed.
He is Jimmy Peter Akuhata, of the Regent, in central Whangarei.
Judge Duncan Harvey yesterday lifted name suppression in the Whangarei District Court.
Akuhata is accused of murdering 21-year-old Ashlee Louise Anne Edwards, mother of two.
His lawyer Catherine Cull told the court there would be no further application for continuation of name suppression.
The court sat in chambers for about five minutes to discuss legal issues before Akuhata's brief appearance.
He was remanded in custody until August 22 when discussions on how he would plead to the charge were expected.
During his first court appearance on Monday a lawyer told the court that there were matters such as Ms Edwards young children and concerns about the safety of the accused and his whanau that needed to be dealt with.
A team of police continue to work on the case and officers are still looking for a black LG A180 model cellphone that police believe was with the woman before her death.
Detective Sergeant Dene Begbie said the phone had not been located as of midday yesterday and police have reiterated their appeal for people to come forward with information.
The phone may help police piece together events leading up to Ms Edwards' death, some time between Thursday evening and early Friday.
Two homes in Whangarei, including one in Raumanga, were searched.
Ms Edwards was found beside Waiarohia Stream in central Whangarei in the early hours of last Friday.
Her funeral service was attended by her family and friends at the Okaihau Hall on Tuesday before she was laid to rest at the township's St Catherine's Church.
For more articles from this region, go to Northern Advocate