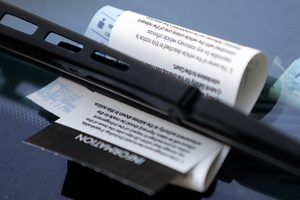 Parking tickets are getting bigger - but don't worry, the fines are staying the same.
From today, councils around the country are increasing the physical size of their parking infringement notices so they can include more information.
The Transport Ministry said the change would help clamp down on a loophole that had allowed people to challenge their fines.
Previously, parking tickets contained only basic information about the offence and how to pay - which meant people could go to court and argue for a re-hearing on the grounds they did not receive a reminder notice setting out their rights.
But the new tickets will have the same content as reminder notices, including "significantly more" information about a person's rights and the consequences of not paying, such as court proceedings.
To fit in all the extra information, councils have had to increase the size of their infringement notices by 10cm or more.
"More information takes up more space, hence the larger tickets," a ministry spokeswoman said.
The new system would come at a cost to councils, but that would largely be offset by reduced court filing fees.
New Zealand Parking Association chairwoman Janice Burns said the larger parking tickets would still be placed under windscreen wipers.
"And now that it's longer you'll be able to see it better under the windscreen wiper," she told Radio New Zealand.
But she conceded it was "a possibility" the larger tickets were more prone to blow away in the wind.
Ms Burns said a lot of drivers had not taken responsibility to update their addresses when registering vehicles.
"When the reminder notices are being sent out, they're being sent to incorrect addresses, so therefore the driver of the vehicle is not receiving the reminder," she said.
"What this change in legislation is doing, is just putting the onus back onto the driver - that you will no longer have that ability to be able to apply for a re-hearing, and hopefully they will keep their details at the motor registration more up to date."
Ms Burns said parking wardens would have to carry more paper around.
"The ticket rolls will no longer give us as many tickets as it previously did, so therefore the officers will have to carry a couple of extra spare rolls in a day."
The changes were introduced in an amendment to the Land Transport Act.
- APNZ