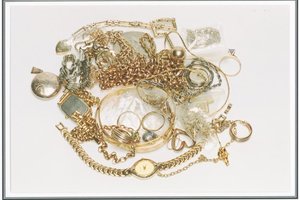 An American who tried to smuggle $600,000 worth of jewels stolen in aggravated robberies out of New Zealand has been sentenced to home detention.
The 45-year-old jeweller from Florida - who cannot be named - was sentenced to time at an address a block back from Mission Bay beach when she appeared at the Waitakere District Court today.
She had earlier pleaded guilty to receiving stolen property, but a more serious charge of belonging to an organised criminal group was dropped.
Her lawyer Alistair Haskett asked the court to give his client permanent name suppression after her family received a threatening note.
The full contents of the note - written in Spanish - were not revealed to the court, but it contained the words "we paid with our freedom''.
Mr Haskett said during interviews with authorities his client had given information about her co-accused, some of whom had since been let out of prison.
Crown prosecutor Robin McCoubrey said there was nothing of significance in the interviews and the people who made the alleged threat obviously knew who the woman was and where she lived.
Judge Claire Ryan agreed. She said it was good police work that secured the arrests, not the jeweller's evidence, and anyone could have written the note.
She told Mr Haskett she had been "ambushed'' by his application which he filed this morning.
"You are trying to bullrush me or steamroll me with a last-minute application and it is not going to work,'' Judge Ryan said.
Mr Haskett said that was not the case.
He appealed against Judge Ryan's decision to decline permanent name suppression, which means the woman's name will remain suppressed at least until the appeal is filed in the High Court.
In sentencing, Judge Ryan said a message needed to be sent to criminals overseas that they will be imprisoned or lose their liberty if they commit crimes in New Zealand.
She gave the woman time off her sentence because she had lost her marriage, home and business, and for her early guilty plea. The woman also paid $5000 in reparations to the victims.
According to court documents, she flew to New Zealand from the US and was planning to smuggle more than $600,000 worth of jewels out of the country. Police found them hidden in her suitcase.
The woman was not involved in the aggravated robberies in which the jewels were obtained - by Colombian nationals who travelled to New Zealand on Mexican and United States passports in April last year.
Court documents show they hired and bought several cars and used them to tail jewellers visiting from overseas. As they did so, they used cellphones to communicate their locations, waiting for an opportunity to strike.
Their first target was John Wertheim, of J S Landau Diamonds in Sydney.
Mr Wertheim had visited potential buyers in Parnell and was sitting in his parked car. He put a black bag containing 700 pieces of jewellery in the footwell of the passenger seat.
Two men approached the car. One smashed the driver's side window and tried to grab the keys in the ignition. While Mr Wertheim wrestled with him, the other man smashed the passenger's side window and grabbed jewellery worth $110,000.
Two weeks later, Chin Fung Ng and Aska Lo from Jewel Arts in Hong Kong came to Auckland to visit potential customers.
They parked their rental car outside the lobby of their city centre hotel.
As they got backpacks containing $500,000 in jewellery from the rear of their car, a white vehicle pulled up beside them. Four men pushed them over and ripped the packs from their grasp.
All the stolen jewellery has been recovered.
Those responsible for the robberies were jailed in February. Cesar Orlando Romero, 43, Javier Espinosa Agreda, 27, Jose Roberto Jimenez-Perez, 27, and Juan Carlos Leal Casillas, 27, were each sentenced in the Auckland District Court to three years and six months in jail after pleading guilty to two charges of aggravated robbery.
A 38-year-old woman, Maria Teresa Martinez, was sentenced to two years and six months in prison after pleading guilty to one aggravated robbery charge.
The Crown offered no evidence today against another woman who faced charges in relation to the robberies. She was allowed to walk free and her name was permanently suppressed.
- APNZ