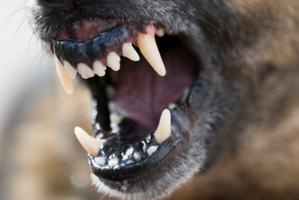 The children of a Rotorua woman savagely mauled by a family pet say they had been trying to get rid of Turbo, the Staffordshire/American pitbull-cross responsible.
The 65-year-old woman remains in Waikato Hospital in a stable condition after the horrific and prolonged attack on Saturday.
The woman suffered a broken leg either before or after the attack and wasn't able to get away, resulting in the dog mauling her arm for at least two hours.
The dog ate through flesh, exposing bone and leaving a gaping wound up to 20cm long and up to 8cm wide.
Daughter Wendy Gray from Rotorua found her mother lying on her bedroom floor on Saturday.
"I went into shock, all I could do was think of helping my mother,'' she said.
She said she and a friend managed to call the dog and put him out the back of the property until police and St John paramedics arrived.
"I just knew something was wrong when I couldn't get hold of her on the phone ... I'm just glad she's okay. But she did say she would never own another dog.''
Ms Gray wanted to warn owners of pitbull-crosses, saying they could turn on them in an instant.
"They are not safe. People may think they have a lovely pet but they can soon turn on you. It seems that when people cross them [with other breeds] they go completely bananas,'' she said.
Speaking from his home in Australia, the woman's son, Ian Gray, said a grandson was living with the woman at her Edmund Rd property, but had recently moved out leaving the dog behind.
"This whole thing has been a very sad tale, the family has been trying to get mum to replace it with something more suitable,'' he said.
"My father recently passed away and a couple of weeks back my nephew moved out, leaving my mother alone with the dog.
"Our main concern wasn't so much this kind of attack but that the dog would just knock mum over - she's a fairly frail lady. But mum insisted on keeping the dog. We have always had dogs in our family and know how to bring them up properly.''
Mr Gray said reports from Waikato Hospital suggested doctors would be able to save her arm, but said she would have limited use of it because of the severity of the injuries.
Rotorua District Council Animal Control supervisor Kevin Coutts described her wounds as the most serious he had seen, saying she was lucky to be alive.
The latest attack comes as the district council prepares to deliberate on its Dog Control Bylaw and Policy at a meeting scheduled for August 7.
Councillor Dave Donaldson said he wanted to know more about what made pitbull-crosses so dangerous.
"I've seen the photos and they are terrible. I feel tremendous sympathy for the woman, it seems the dog was a trusted family pet.''
He said councillors would be discussing what could be done about the issue of dangerous or menacing dogs next week.
Council officer Neven Hill said it did not have the legislative power to ban any breed or type of dog as that could only be done by the Government.
However, he said, councillors would be discussing whether it should be compulsory to de-sex all menacing dogs in the district.
Mr Hill said there were four breeds or types of menacing dogs covered by legislation in New Zealand that were only allowed out in public if they were muzzled. They are the American pitbull terrier, Brazilian fila, dogo Argentino and Japanese tosa.
Rotorua police are investigating Saturday's attack and the dog has been put down.
For more articles from this region, go to Rotorua Daily Post