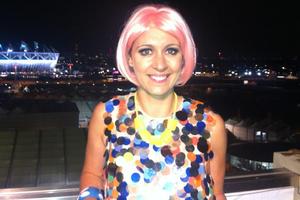 "Nothing else has even come close."
Exhilarated New Zealander Ceilidh MacDonald spoke for the entire world, after performing in an Olympic opening ceremony like no other.
After 120 hours of rehearsal, the 29-year-old NZ High Commission worker's brief appearance in a sequinned dress, pink wig and matching tights was everything she imagined.
"Just before it started I was overwhelmed with an incredible feeling at just being part of it all," she told the Herald on Sunday.
Yes, there were two rivers running through London yesterday - and one of them was made of unadulterated goodwill. Indeed, a small radical Islam group that had planned a demonstration to expose "the evil of the Olympics" cancelled its protest for no stated reason.
London Games opening ceremony supremo Danny Boyle might have won an academy award for directing Slumdog Millionaire, but he deserved a gold medal for yesterday's ceremony before a stadium crowd of 52,000 and a worldwide television audience of hundreds of millions.
These Games first came shrouded in grief, after the terrorist attack on the London Underground overshadowed the awarding of the games to London - but time heals. Now, the catchcry for these Games is "to inspire a generation". What a fine start.
Boyle's inclusive celebration of British humour, poignancy, invention and culture was genius. Getting 10,000 people to interact and take a global audience through the gamut of British history is a tall order. And it is said he shook the hand of each cast and crew member to thank them before the production went to the stage.
As London Mayor Boris Johnson said, "No one in London is immune to this contagion of joy".
The show captured all walks of British life from the National Health Service to trade unionists to cricketers to rap artists. Seven billion bits of paper were distributed to represent every person in the world and there was a memorial wall for loved ones who couldn't be there.
The ceremony had monarchs, Presidents, Prime Ministers, Michelle Obama and the cast of Downton Abbey - and that was just in the audience.
On centre stage itself were Muhammad Ali, Paul McCartney and David Beckham, who drove the Olympic flame down the Thames in a speedboat.
Among the 60,000 spectators at Olympic Stadium was the Queen, her husband Prince Philip and younger royals including Prince William and his wife Kate, and Prince Harry.
The goodwill was contagious outside the stadium for the New Zealand athletes who watched the first hour in their village before walking across. The haka was again lurking when Nick Willis put on the Mahutonga hand-woven cloak.
"Nick was a bit worried it might get wet with the forecast rain," decathlete Brent Newdick said. "So he put it on about halfway between the village and the stadium and all the boys launched into a haka."
"We got plenty of support on the side of the road, too," weightlifter Richie Patterson added. "There were schools dressed in New Zealand colours as part of an adopt a nation programme. It tugged at your emotions seeing those kids cheering."
- additional reporting Russell Blackstock and AP