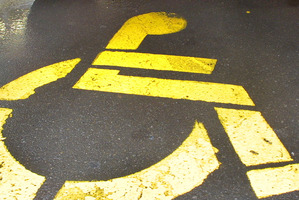 A disability group wants it to be compulsory for retailers to have mobility parking.
CCS Disability Action called for a change in legislation allowing the mobility parking scheme to be extended to commercial premises.
Chief executive David Matthews said the organisation surveyed retailers and building owners for a consistent nationwide approach to policing mobility parking.
"The majority of retailers and building owners it has surveyed were unaware the present legislation only applies to public, not private areas such as retail grounds," he said.
Mobility parking permit holders can use mobility parking spaces, which are wider than standard parks and closer to venues. These spaces are marked with the disability symbol, and in many areas are painted blue.
CCS Disability Action manages and issues permits, and advocates to improve the scheme.
Doctors or GPs assess people to determine their eligibility and local councils provide and monitor on-road parking spaces.
The New Zealand Transport Agency manages the legislation around parking requirements and fines.
More than 100,000 permits were issued under the mobility parking scheme last year.
"We believe that the rules should be extended to private areas and we're pleased to see this view supported by the bulk of those we surveyed, " said Mr Matthews.
"Many retailers are doing a fantastic job of providing, monitoring and enforcing use of these carparks. With such high numbers of people affected by access issues, it's not only a social but an economic issue for them," he said.
- APNZ