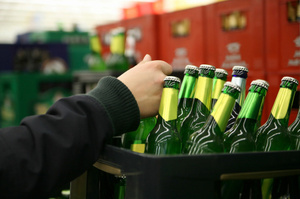 Dunedin police look after about 500 grossly intoxicated people each year and say they will support discussions for a dedicated detox centre for drunks.
A female student who was found by officers covered in vomit, grossly intoxicated, hypothermic and alone in an isolated industrial area earlier this month, prompted a call for such a centre.
Figures released to the Otago Daily Times show Dunedin police locked up or transported home 508 people for the year ending June 30, compared with 515 in 2011 and 525 in 2010.
Dunedin Clutha area commander Inspector Greg Sparrow said intoxicated people were more difficult to deal with, as "their ability to reason is impaired and they are less in control of their physical behaviour".
"They are often more likely to be aggressive and difficult to manage. There is also a greater number of risks for staff to manage when intoxicated people are arrested."
Those risks included people choking on their vomit and people self-harming, he said.
Police were generally supportive of the idea of detox centres, as "many of the people we deal with in custody are drunk, have taken drugs, or have mental health issues, or all three".
At present, if police officers find a grossly intoxicated person on a city street, they can either take that person home, if someone is available to look after them, take them to Dunedin Hospital, or to take them to the police cells until the risk reduces.
Insp Sparrow said establishing a detox centre was something that required discussion at a national level with appropriate agencies, but did not rule out discussing a dedicated detox centre for Dunedin.
"We are always willing to talk through issues with our partners."
Earlier this month, Dunedin Mayor Dave Cull said while there were no plans before the city council, "we would be willing to be involved in any discussions which led to an improvement in public safety".
Southern District Health Board public health medical director Dr Marion Poore said a multi-agency harm reduction strategy for Dunedin, focusing on a variety of actions, would help address concerns.
"Harmful use of alcohol is a major problem in our communities and a huge drain on hospital resources, especially as most presentations occur between 9pm and 3am when hospital staffing is at its lowest."
An estimated 5 per cent of presentations to Dunedin Hospital's emergency department were because of alcohol, she said.
"Young people, such as the one recently written about in the ODT, are likely to receive a significant amount of medical care while in ED."
Earlier this year, the Independent Police Conduct Authority recommended detox centres be set up to avoid the death of grossly intoxicated people in police cells.
That recommendation came after it reviewed 27 deaths in police custody between 2000 and 2010.
Twenty of those cases were found to have been affected by alcohol, drugs or both.
Justice Minister Judith Collins said she did not support making being drunk in a public place into an offence.
"I don't think that's the answer. It used to be an offence and the Law Commission found previously it did not stop people becoming intoxicated, but it did consume considerable police and court time.
"We have other tools in place, for example, the crime of disorderly conduct, so police do have powers available to them. The problem is our attitude to binge drinking, which is not new. It's a problem we all share and we all have a part to play in reducing alcohol-related harm."