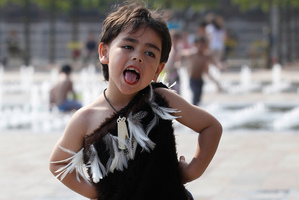 Everyone has heard the old line about the perils for public performers who work with kids and animals.
The opening of Kiwi House, the home away from home for New Zealanders in London for the Olympic Games, was at least partly stolen, in the best possible way, by an energetic 4-year-old.
As the London-based Ngati Ranana group went through their kapa haka performance, little Luke Jack wasn't about to miss out.
So he did what impish kids are prone to do, stamping his feet, slapping his hands on his thighs, copying the grown-ups. Cute? You bet.
The project has been overseen by expat Melissa Gilmour, formerly of Christchurch. A director of events services providers Lily & Piper, she has been working on it for a year.
One of its big pluses is the location, in Granary Square, between Kings Cross and St Pancras railway stations.
St Pancras is the site of the Olympic javelin train, which provides a six-minute journey to the Olympic Park.
Around 30 expats living in London have helped put the house together.
As New Zealand Olympic Committee president Mike Stanley said at the opening: "There are two degrees of separation between us, and when we need a job done, we roll our sleeves up and get it done."
The house has four televisions, a coffee stand, a bar and outside barbecue area (with a menu overseen by leading New Zealand chef Peter Gordon) - a large amount of "mingle" room and nightly musical or comedic entertainment, including singer-songwriters Hollie Smith and Tim Walker, son of the 1976 1500m gold medallist, Sir John, and Lady Helen.
The idea is to offer a New Zealand bolthole for athletes, officials and family members to gather.
"It's just creating a slice of New Zealand in London for Kiwis," said Gilmour.
The night before yesterday's opening, Gilmour fell asleep fully clothed, dog tired. She can laugh about it now the job is done.
"At end of day, we are from the same country," she said.
It's probably to do with that "roll up the sleeves and get stuck in" attitude.
Luke Jack had a fair bit of that approach yesterday, too.