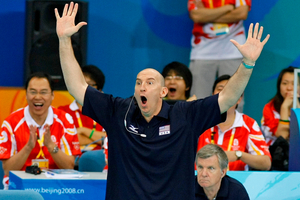 It was an emotional victory for Kiwi volleyball coach Hugh McCutcheon as he led the United States men to Olympic gold in Beijing.
He was still grieving over the death of his father-in-law, who was murdered in the Chinese capital shortly after the opening ceremony.
But as he trains the women's team in London four years later, the 42-year-old hopes to keep the focus off his personal life and on the sport.
"When I say it doesn't matter, obviously it matters," he told the US television network ESPN.
"But it's not part of this story. That whole side of things is very personal. It was dealt with off this stage, that's for sure.
"From a professional point of view, that's the connection. But our stuff from a family point of view isn't on the world stage. The volleyball side of things is, and that's how it should be."
McCutcheon missed the first three pool games in Beijing to console his wife, Elizabeth, a former US Olympic volleyball player.
Her father, Todd Bachman, was killed and her mother left seriously injured after a random knife attack at the popular Drum Tower tourist spot.
Christchurch-born-and-raised McCutcheon returned to lead the team to success. Fans will remember the emotional scenes in the Capital Gymnasium arena after the win - McCutcheon's fist raised as he looked up at the roof, tears streaming down his face, before he ran out of the auditorium to catch a break.
He said none of his family had accompanied him to London this year.
"I'm glad that I'm part of this Olympics. The experiences I've had are unique, but there are not a lot of people in the world who get to know what it's like to be part of the Olympic movement. I'm just so grateful."
Team captain Lindsey Berg, who played with McCutcheon's wife during the 2004 Athens Games, said the coach had not brought up the tragedy since taking the women's job in December 2008. "I understand it's an interesting topic and it's a tragedy, but we don't talk about it. We never have."
The team, which won silver in Beijing, is the top ranked in the world and begins its quest for gold on Sunday against Korea.
McCutcheon, who has two children aged under 2, may not be back for a third Olympics. He has already accepted a job coaching the University of Minnesota women's team.
"My goal in life was to be a dad, not a coach. And with two young kids, I want to make sure I do right by that. I don't want to raise them on Skype."