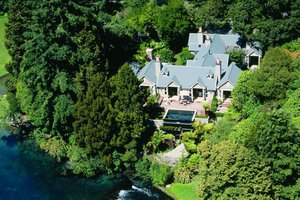 The Danish tourists who were left at a McDonald's restaurant while their driver was taken away by police say they are considering legal action against the exclusive hotel that hired the driver.
Marianne Schnor and Kare Schultz were returning to Auckland from Huka Lodge, near Taupo, last week when their driver was pulled over and taken away by officers, who told the family he was known to them.
The couple and Ms Schnor's four children were taken to a McDonald's in Tokoroa by a police officer to wait for a replacement driver.
After complaining to Huka Lodge they were promised a refund of almost $10,000 on their total bill - but the hotel general manager emailed the next day to say the refund would be the cost of the trip to and from Auckland, a total of $2000.
The driver was not an employee of Huka Lodge but from a company the resort contracted to transport guests.
Yesterday, Ms Schnor said they were still upset at the "blatant" way the resort changed their minds.
"Offering one thing, on their own initiative, then adjusting the same offer, then suggesting, for them, a cheaper alternative, then going back on their word altogether."
Ms Schnor said she wanted to speak to whoever owned Huka Lodge.
"Four days cost us a whopping $23,000 - excluding drinks or extras. These rates beat those of any luxury hotel in the world.
"I left New Zealand with a bitter taste in my mouth."
The family were looking at their legal options.
Last week, Huka Lodge general manager Louis de Bievre called the situation "hugely regrettable" and blamed a miscommunication between Mr Schultz and a staff member for the disagreement over the refund. He said Huka Lodge was no longer using the company the driver worked for but did not respond to questions about Ms Schnor's concerns about the refund.