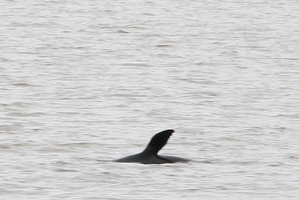 The lone seal lazing on its side with a flipper in the air, sparked concerns that a dolphin had stranded in the cove. Photo / Bay of Plenty Times
A 111 call earlier today about a stranded dolphin in Tauranga turned out to be a seal, which was far from stranded.
A Northern Fire Service spokeswoman said a member of the public called emergency services at 12.30pm today and said there was a dolphin stuck in Fraser Cove that had trapped itself as the tide was going out.
The concerned citizen described the dolphin as "distressed".
Police attended the scene to control rubberneckers holding up traffic.
Volunteer marine mammal rescue organisation, Project Jonah was alerted to the stranding and sent a local volunteer to the scene.
Fire Service Northern Shift Manager, Jaron Phillips said in the meantime another concerned bystander leapt into the estuary in an attempt to re-float the animal.
He said the bystander swam up to the animal, 16 metres from the shoreline which is when he realised that it was a seal, and not a dolphin.
Mr Phillips said the seal then became aggressive to the would-be rescuer, who quickly swam back ashore.
Project Jonah spokesman Daren Grover said at this time of year 'yearlings' - late juvenile seals a year old - will act very strangely.
"I think the location down there probably triggered a lot of people calling, on one side of the road is a mangrove creek and a bit of a beach which is where the seal was and on the other is a Countdown supermarket."
Mr Grover said the confusion over the identity of the animal arose because the seal was lazing on one side with its flipper in the air, not an uncommon position - but from afar could it look like a dolphin.
- APNZ