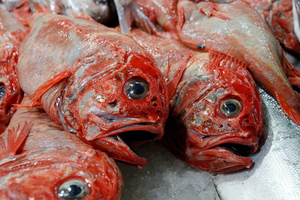 The United States is considering taking steps which will lead to tighter restrictions on the fishing of orange roughy.
However New Zealand authorities believe the species is not under threat, and is urging the US to abandon plans to have the species classified as threatened.
The US Government confirmed to Radio New Zealand it was looking at making recommendations to the Convention on International Trade in Endangered Species of Wild Fauna and Flora (CITES).
Placing the species on the CITES threatened animal list would mean New Zealand would have to report regularly to other countries on the population of the species and prove commercial fishing is sustainable.
The Ministry for Primary Industries and the Department of Conservation has sent a five-page report to the US opposing the plan.
The Ministry's principal fisheries science adviser Dr Pamela Mace told Radio New Zealand there are about 140 million adult orange roughy in New Zealand waters.
"That hardly constitutes a risk of extinction," she said. "There are certainly many, many far more deserving species that require the sorts of protections that a CITES listing offers."
Dr Mace said there are already measures in place under the Quota Measurement System restricting the amount of orange roughy that can be caught and where it can be caught.
The US has until October to make the recommendation to CITES, with members countries then voting on the matter next March.
- Herald Online