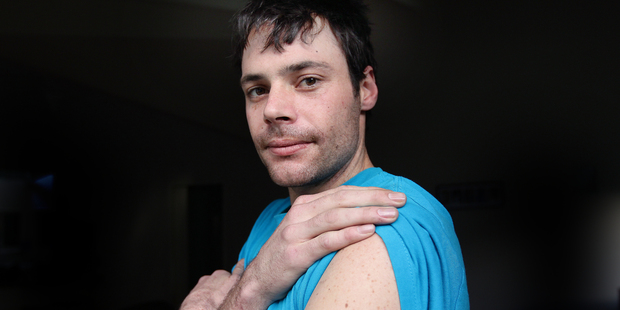 The brother of a man who is in a Thai hospital, after a scooter crash, has escaped being tattooed after offering to auction his body as a blank canvas on Trade Me.
A Christian childcare centre won the bid and asked that he go unmarked.
Kane Kenzie, 28, was trying to raise funds to bring his injured brother, Sean, 27, home.
Sean has been stuck in a Bangkok hospital for three weeks with severe injuries including broken ribs, a broken jaw, punctured lungs and a split liver after a taxi van hit him from behind while he was riding a scooter.
Treatment to save his life cost more than $16,000 and his family have been told it would cost $50,000 for ongoing treatment and a flight back to Wellington.
His travel insurance did not cover scooter accidents.
The Trade Me auction closed this week, with the winner offering $1350 to stop him from getting inked.
Noah's Ark Learning Centre in Whangarei was determined to win, placing $20 bids every few minutes. Director Andre Stevenson did not return calls.
Meanwhile, Kane's good friend, Michelle Carlton, is preparing for a blind date this week with the winner of her auction "date me to save a life".
University of Auckland engineering student Maurice Chai paid $1300 for a date with the 21-year-old student and barmaid.
"He has already put it in the account but I don't know anything about him," Carlton said. "He sent me an email and seemed very nice, humble and kind."
Chai, 24, said bidding for a date was out of character for him as he was usually a "low key kind of guy".
"But the idea of not throwing the bid out there and having regrets later swayed me."
The Kenzie family has raised $18,500.
To donate to the campaign go to: http://on.fb.me/LjWdsb