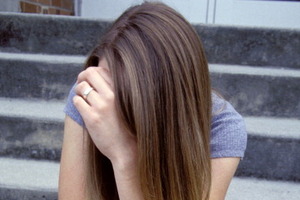 A woman who had a miscarriage has questioned whether it was caused by the stress of thinking she had HIV, after receiving an unclear result from the national screening programme.
She was seeing a fertility specialist and, after the initial test for the virus that causes Aids, her doctor phoned to say she needed to have a second test.
"That was on a Tuesday and I took the rest of the week off work because I was beside myself. I expected to get the result within a couple of days and kept phoning the nurse and it hadn't come, so that was even more stressful - it's all such a fright.
"It was eight days later that I finally got the result.
"Also, in the meantime, I didn't know I was pregnant and on the Sunday I had a miscarriage. I don't know if all the stress, etcetera - whether that causes a miscarriage or not."
The Ministry of Health urges midwives and doctors to offer HIV blood tests to all pregnant women, to enable diagnosis of those who don't know they have the virus and reduce the chances of transmission to babies.
The chance of a baby contracting the virus from an infected but untreated mother during pregnancy, birth or breastfeeding is around 30 per cent.
But this drops to less than 1 per cent with maternal treatment and proper management, which may include caesarean delivery.
Fertility specialist Dr Richard Fisher said there was some evidence to suggest stress could increase the risk of losing a pregnancy, but only in women who had a history of recurrent miscarriage.
The comments from the woman who had a miscarriage, "Woman C", are among excerpts of unnamed patients' interviews with researchers in a report by Otago University's Aids Epidemiology Group.
The women had received "non-negative" screening results - which are neither negative nor positive - from the antenatal HIV screening programme. Later tests showed they were negative.
The report, marked "confidential", was obtained from the Health Ministry by the Weekend Herald under the Official Information Act.
The chances of a "non-negative" result are about 1 in 1000 and most turn out to be fully negative after a second test.
The screening programme began in Waikato in 2006 and later went national. The ministry spends about $1.3 million a year on the scheme.
One ministry document indicates uptake is around 80 per cent, but another says the uptake data is "compromised" by reporting problems and likely to be incorrect.
Last year, 35 women had "non-negative" screening results. Subsequent testing found that 27 of them were negative for HIV and one was positive.
Two were already known to be HIV-positive, one woman could not be contacted and the outcome for four was unknown.
Three women were diagnosed with HIV through antenatal screening in 2010, and one last year.
The Otago University group said the screening programme appeared to have led to a reduction in the number of children infected with HIV.
But a member of the ministry advisory group on the programme, Lynda Williams, wants it to be scrapped.
She said the harm from it - the anxiety caused by initial "non-negative" results and problems with informed consent - outweighed the benefits from the few cases diagnosed.
Ms Williams, the co-ordinator of the Maternity Services Consumer Council, wants a return to offering antenatal HIV screening only to women at increased risk of having the virus, such as those from Africa, Asia and Pacific islands.
Advisory group chairwoman Dr Sally Roberts said, "The risk-based approach failed. There were births to women who were HIV-infected [but not diagnosed until later]. That's what drove the change."
The Aids Foundation's executive director, Shaun Robinson, said it fully supported the national screening programme.
"You have to put the rights of the child first.
"The child is completely without any power to influence whether they acquire HIV or not in this situation. We have the ability to prevent them acquiring HIV if we can screen and detect mothers who have HIV, so absolutely we should act on that ability.
"A little bit of anxiety for some women, I think, is a small price to pay for ensuring that children are born healthy and without a chronic, life-long disease."

What women say
"It's not good to get that stressed during pregnancy - I don't suffer miscarriages easily but something like this could push you over. I stopped eating and sleeping - it was terrible. I even started thinking does my husband think I've had an affair." - Woman A
"It would have been better if I had never known the result of the first test." - Woman C
"I was pretty devastated ... . I wanted to know why the false positive came up and [the specialist] kind of just said it's negative and that's it ... I had told all my family and they all thought that I must have got it [HIV] when I was raped and my brothers were wanting to come and find the fella and kill someone. It was terrible." - Woman D.