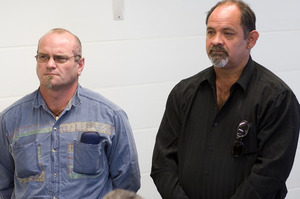 It would be "impractical'' for two men who shot 33 dogs to serve part of their sentence working at the SPCA, says the boss of the animal welfare organisation.
Royal New Zealand SPCA president Bob Kerridge said Tony Campbell and Russell Mendoza carried out a "bloodthirsty, cruel, inhumane act to animals'' when they shot their neighbour's dogs in January, 2010.
Campbell and Mendoza were handed sentences of six months' home detention and six months' community detention respectively when they appeared at the Auckland District Court today.
Judge Mary Beth Sharp also ordered them to pay $4775 reparation each to the SPCA for the investigation and to do 300 hours' community work - preferably at the SPCA. But Mr Kerridge said that would be impractical.
"The effect of that would be very dramatic on our staff. I wouldn't put them through that,'' he said outside court.
Campbell and Mendoza were found guilty at a trial in May of recklessly firing a gun and four counts each of wilfully ill-treating an animal after they shot the 12 caged dogs and 21 puppies.
In sentencing, Judge Sharp described Campbell as the instigator of the massacre, and accepted that Mendoza had not intended to take part in the killing when he agreed to help his friend following the mauling of his own dog.
"But when he was handed a weapon, Mr Mendoza became overcome by blood lust,'' she said.
Mendoza's lawyer Joe Koppens said his client had received "vicious" hate mail as a result and asked the judge for a "merciful'' sentence.
Campbell's lawyer Monique Porner submitted that the sentence should not be more severe because of the method the men used to kill the dogs.
"Shooting a dog in order to destroy it is, if done properly, an acceptable method. These dogs died relatively quickly because they were shot.''
But Judge Sharp said it was clear that the dogs had suffered painful deaths.|
"It is important to send a very strong message to those who think it is appropriate to be cruel to animals.''
But speaking from his home in Wellsford, the dogs' owner Rowan Hargreaves said the message was anything but clear.
"They were found guilty but it's a bit of a slap in the face for us. Six months is a bloody joke,'' Mr Hargreaves said.
He said he would remember for the rest of his life the sound of his dogs howling in pain but the two men who pulled the triggers would spend only the next six months being punished.
He said his dogs howled in "extreme pain and agony'' as the two men went around his property shooting them one by one.
Also unimpressed with the sentence was former SPCA Auckland chief inspector Vicki Border, who was involved with the investigation.
"It's a kick in the guts, actually. I don't think justice has been served for the pain and suffering that the dogs went through, what the owner went through. I just don't understand it.''\
She said dealing with the massacre was one of the most terrible things she'd had to do in her life, and it continued to take an emotional toll.
"The blood, and the carcasses which I had carry, it was horrific. It was such a bizarre event which should not have happened."
- APNZ