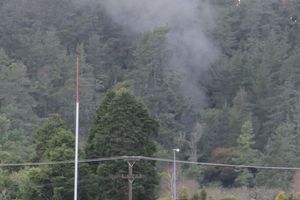 The mining crew who were trapped underground for seven hours by fire have returned to work at the Trio gold mine in Waihi.
A truck engine caught fire in Newmont Waihi Gold's Trio underground mine early on Tuesday morning, leaving 28 men trapped in three refuge chambers.
Mines rescue staff had evacuated thirteen of the miners by 10.30am, while 15 remained trapped in a rescue chamber deep in the mine until just before 12pm.
Work restarted at the mine last night after 60 hours of disruption, Newmont Waihi Gold said.
The mining crew who were left trapped by the fire were back at work today, it said.
The decision to restart work was made after investigators found the fire in the 35-tonne Komatsu truck was completely out.
It was set to be cordoned off ahead of a full forensic investigation.
Mine general operations manager Glen Grindlay said some changes to the mine emergency systems were already being implemented.
Many of the trapped men had listed their own cellphone numbers at the best way to contact family, he said.
"That meant that we weren't able to get hold of people as quickly as we would've liked to. We'll be working to ensure that everyone working in the mine provides us with current contact details for their families so that we don't have this situation again."
Investigations into the cause of the fire and the evacuation of the miners were expected to take at least a week.
The Department of Labour was also investigating the incident. It was expected to take six months to report its findings.