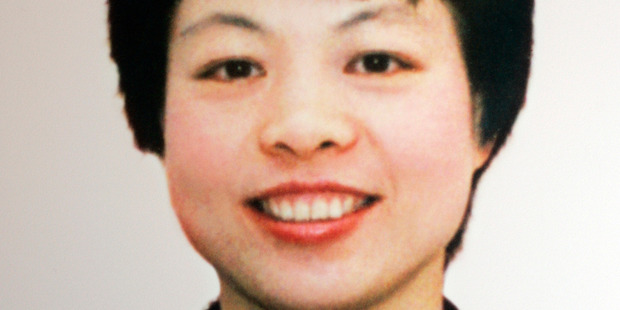 Joanne Wang, who was killed after a bag snatch went wrong. File photo / NZ Herald
A man found guilty of murdering a young mother he ran down in a shopping centre carpark during a handbag snatch has been sentenced to life in prison.
Christopher Jacob Shadrock, 25, was found guilty for the second time for the murder of Jian 'Joanne' Wang.
A jury in the High Court at Auckland returned the verdict today after deliberating for two days. Shadrock was handed a non-parole period of 12 years.
Shadrock ran down Ms Wang in a stolen 4WD in the carpark of the Manukau Westfield shopping centre in June 2008, in front of her young son, after snatching her handbag.
He was re-tried on the murder charge after successfully appealing his conviction at the Court of Appeal in 2011.
Shadrock's family sobbed as the sentence was read out by Justice Timothy Brewer.
He turned to his girlfriend and young daughter and mouthed 'I love you', touching the thick screen that separated them.
Four of Shadrock's associates were also found guilty of being accessories after the fact over their respective roles in the robbery and sentenced.
Maka Tuikolovatu was found guilty of hiding Mrs Wang's handbag at his home and sentenced to 18 months in prison.
Three others - Vila Lemanu, Lionel Tekanawa and Terence Tere - were found guilty of destroying evidence relating to the murder, after setting fire to the Nissan 4WD in the days following Mrs Wang's death.
Lemanu was sentenced to three years in prison, Tekanawa to two and Tere to six months' home detention.
However, as some of the co-accused have already completed their original sentences they are set to be released after returning to prison to have their sentences calculated.
Addressing the convicted men, Justice Brewer told them he didn't need to remind them of the loss they had caused.
"I don't want to add to the stress.''
The retrial was ordered after the Crown successfully argued a point of law concerning whether the robbery was still continuing when Shadrock hit Ms Wang or not.
Ms Wang's 8-year-old son witnessed the robbery from the van his mother had been getting into when her bag was snatched. He was left alone in the car park while others rushed to where his mother lay bleeding on the ground.
Ms Wang's family were not present in court today but had attended the trial.
After the first trial, Ms Wang's father spoke of the pain her death had caused, saying it was "as if someone has taken a knife and cut open my chest and taken a piece of my heart without anaesthetic''.
in his summing up this week, crown prosecutor Kevin Glubb told the jury it was a bag-snatching that just went so horribly wrong.
"She didn't stand a chance.''
In her handbag was a large amount of cash from a small business she owned, he said.
Shadrock's lawyer Chris Wilkinson-Smith said that although Shadrock went to the carpark that day with the intention of carrying out the "grubby work'' of robbing someone, it was never his intention to murder anyone.
- APNZ