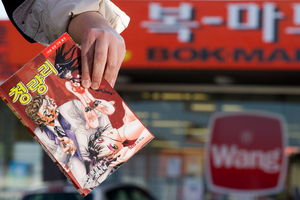 The mother of a 10-year-old boy was shocked when she discovered that the comic her son had bought from a Mt Eden shop contained graphic sexual content.
The manga-style comic book was bought from the Bok Mart Korean supermarket.
"The pictures are just disgustingly shocking, and it is just irresponsible of the shop to be selling them to children," said the mother, who did not want to be named.
"I have asked them to remove the books from where children could access them, but they have refused."
When the Herald visited Bok Mart yesterday, at least two children under the age of 10 were browsing through the pages of the adult comics, while their mothers were shopping.
The anime and manga publications were prominently piled on a table in the middle of the store, which sells mainly Asian groceries.
Douglas Young, an operator at Bok Mart, said they belonged to the owner of a failed comic book shop who had returned to Korea, and Bok Mart was storing them on his behalf.
He denied the books were sold, but when told that the Herald had bought a copy, Mr Young said they were "sometimes sold by mistake".
He said the comics had previously been loaned to borrowers for 50c a copy.
"If there are people who have been offended, they can call us and we will apologise," Mr Young said.
He said he would consider removing the publications from displays where minors could read them.
The Department of Internal Affairs says there is no requirement for publications such as the manga comics to be classified under the Films, Videos and Publications Classification Act before their release.