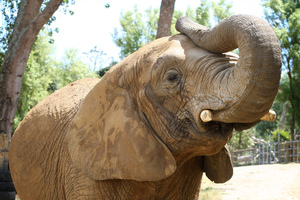 Franklin Zoo is advertising for a keeper to care for Mila the elephant for up to a year until a new home is secured for her in the US.
The South Auckland zoo has advertised for an experienced elephant project manager to take up a one-year contract to look after the 39-year-old until $1.45 million is raised and she can be transported to the Performance Animal Welfare Society in California, a rehabilitation centre for former circus animals.
Mila's last keeper Helen Schofield was crushed to death by the former circus elephant in April and the zoo this week announced its closure because the vet-cum-zoo operator and director was "irreplaceable".
The job is being advertised by Franklin Zoo and has been sent out internationally and to at least 80 members of the Zoo Aquarium Association (ZAA) Australasia. The zoo is offering a competitive salary and relocation costs for someone with at least five years experience in managing elephants including moving them. The right candidate would also run a protected (non-contact) management programme for Mila.
ZAA president and Wellington Zoo chief executive Karen Fifield said: "You've got to know how to work elephants and that is a very specialist skill set. "Whether or not we will get somebody who wants to go there on a secondment for a year - I don't know. It's only just gone out."
The focus of the role is likely to be solely to care for Mila as plans are already being made by the ZAA to relocate Franklin Zoo's remaining 37 animals, which came from zoos or circuses. The domestic animals and birds have already been rehomed, according to a phone message at Franklin Zoo.
In the meantime keepers from Auckland and Hamilton zoos have been helping out at Franklin Zoo.
Staff at Auckland Zoo are carrying out veterinary assessments to work out the age, health and welfare of the animals at Franklin Zoo which they hope will be relocated within the next couple of months.
"They [Franklin Zoo staff] don't need that stress so we just want to get the animals out of there as soon as we can and then all we've got to worry about is looking after Mila," Ms Fifield said.
Exactly where the animals will be relocated to is still to be confirmed, but it is likely Hamilton Zoo will get the two bobcats and brolga crane and Auckland Zoo will have its frogs back. The primates are likely to be sent to zoos in Australia at their cost.
However the futures of several of the older animals including a 23-year-old otter with one eye and a pig-tailed macaque which was originally a circus animal are uncertain and they are still waiting for their veterinary assessments.
"If Helen was still alive he [the otter] would have lived out his life there, but I think it would be way too stressful to move that animal. He wouldn't make it. So we have to look at this basically from an animal welfare perspective," Ms Fifield said.