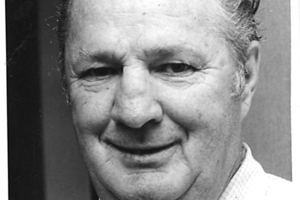 "Keep looking over your shoulder."
That is the message from the son of slain bank guard Howard Percy to the person who shot and killed his father during an armed robbery in Rotorua 36 years ago.
Family members of Mr Percy, gunned down at the age of 65 after a struggle with a robber inside an ANZ banking facility on Guy Fawkes Day in 1976, yesterday made a plea to the public after a new piece of information prompted police to re-examine the homicide.
Mr Percy, a keen sportsman who had run a successful engineering business before taking on the bank job to keep him busy, had just closed the remote satellite facility in Old Taupo Rd when he heard a sound at the rear of the building.
When he went to investigate, he was confronted by a man wearing a balaclava and carrying a gun.
Mr Percy was shot twice in the struggle that followed and died before he could reach hospital.
Four months earlier, Mr Percy was one of three staff members who were tied up by a lone offender who escaped with an estimated $13,000.
In the second incident, the offender fled empty-handed, leaving his blue woollen balaclava and a knife.
For his sons, Ross and Deryk Percy, who were in their 30s at the time of the incident, feelings of anguish have lingered ever since.
"Oh hell yes, I'm feeling them now," Ross Percy said.
"Because it happened on the 5th of November ... it stirs every Guy Fawkes. Every time it comes along, it's brought to the surface again. It hurts, it's no fun."
He said it was "great" police were looking at the case with renewed focus.
"Police have never given up on this case. I've had an association with them for quite some years now and they've kept us informed, and it's getting close, I feel," Ross Percy said.
Bay of Plenty police crime manager Detective Inspector Tim Anderson said pieces of information had come in over the years, but it was one recent tip-off that led police to "bump up" the investigation.
He could not reveal what that information was or when it was received, but police had a number of persons of interest to the investigation.
Despite the lapse in time, Mr Anderson believed the murderer was still alive.
"The passage of time doesn't lessen our resolve. In fact the passage in time can prove very useful as it allows us to make the most of advances in science and technology such as DNA and firearms analysis."
Allegiances and relationships changed over time, he said.
"It is possible that someone knew something crucial back in 1976 but their circumstances at that time prevented them from talking to us.
"These circumstances may well have changed and we want to make it clear that the door is still open to them.
"Mr Percy's wife died never knowing who murdered her husband. We want to at least give some answers to his children and his grandchildren."
Ross Percy said he longed for satisfaction and to know police had finally caught the killer.
To his father's murderer, he said: "Keep looking over your shoulder - the police are coming to get you.
"We'd like people to come forward, even if it's something they don't think is particularly relevant ... It may well be," Ross Percy said.
A special phone line and email address have been set up to receive information relevant to the investigation.
Those who can help are asked to phone 0800 4PERCY (0800-473-729) or email operation.percy@police.govt.nz.
Information can be provided anonymously via Crimestoppers on 0800-555-111.