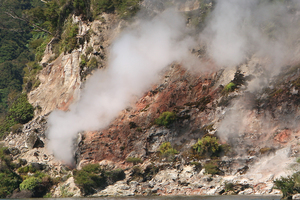 Bidders will get the rare chance to secure a piece of New Zealand history when the largest known collection of samples from the famed Pink and White Terraces goes under the hammer next week.
It comes as interest in the terraces - dubbed the eighth wonder of the world before they were buried during the 1886 Tarawera Eruption - has revived after the recent discovery of parts of the lost landmark below Lake Rotomahana near Rotorua.
Other fragments claimed to be from the terraces have sold in the past year but Auckland auctioneer Dunbar Sloane said there had never been a collection of specimens as large as this.
"It's probably the largest collection in the world."
The collection comprises more than 70 pieces, some more than 25cm in length, with estimated starting individual prices of $2000. It will be sold in a dozen separate lots.
The pieces are thought to have been collected during the early 1880s by surveyor James Stewart, whose name was given to the Auckland lava caves he discovered.
After the Tarawera eruption, he returned to the area to attempt to find the terraces, and a still-active crater near Mt Tarawera was named the Black Crater by him.
His collection - some of which was thought to have been donated to an unknown English museum - was eventually sold by the Stewart family in 1970, after it had been stored in a bach on Rangitoto Island, wrapped in old newspapers dating back to 1885.
The pieces range in colour from pink and white to green, and some contain objects such as twigs, pollen and leaves from the surrounding area.
Desmond Barry, a friend of the owner speaking on his behalf, said museums had originally been approached for interest in the pieces before the decision was made to sell them.
"They had been sitting there for quite a while and basically [he's] just wanting to clean things up and try to get more finances in. He liked them, but priorities are priorities."
It was still hoped the collection would be bought by a museum so it could be displayed to the public, or at least by a New Zealand collector.
Mr Sloane expected a large turnout for the auction, to be held at his Mt Eden auction house on Tuesday.
"Even the museums that have seen it have said, 'Wow'. Hopefully people can come and see it - it's a fantastic array of samples."
He said that although there were no existing specimens to properly compare the pieces to, he was assured they were authentic.
"No museum is going to stick their necks out and say, 'Yes, it's 100 per cent from the Pink and White Terraces'. I'm happy with their provenance."