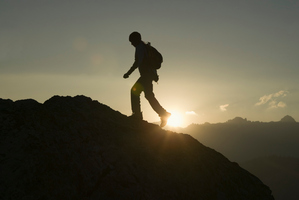 Two injured trampers, a 50-year-old Levin man and his 16-year-old daughter have been flown to Levin after spending three nights sheltering from severe wind and rain in Te Matawai Hut in the Tararua Ranges, east of Levin.
The father and daughter were part of a group of four, including two other teenage girls, who had headed into the ranges on Saturday.
During the tramp to the hut the man injured his knee and the girl hurt her toe, and after a difficult climb they reached the hut but were unable to make it out of the area.
Search and Rescue were alerted, and with a possible break in the weather on Sunday morning the Palmerston North rescue helicopter made an attempt to reach the party of four, but was hampered by high winds, rain and low cloud and the rescue was called off.
A decision was made to drop a search and rescue member in bush as close as possible to the group.
Carrying extra food supplies the SAR member tramped through difficult terrain for two hours to reach them.
With the tramping party safe in the hut they waited for weather conditions to improve before the helicopter crew could attempt another rescue.
Yesterday the SAR member walked out with two of the girls, who were wet and tired but otherwise well.
At about 8.30am today the helicopter landed near the hut with a paramedic on board who treated the father and daughter's injuries before being flown to Levin.
Levin police search and rescue member Senior Constable Michael Tate said one of the difficulties was that the group relied on cell phones for communication and cell phone coverage in the area is not reliable.