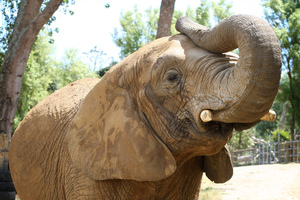 The zoo where keeper Dr Helen Schofield was crushed to death by an elephant will close its doors.
In a statement yesterday, Franklin Zoo near Auckland announced the it would shut permanently following the death of "the heart and soul" of the zoo.
Dr Scholfield's roles at the zoo included vet, zoo operator and director, and elephant programme manager.
She was "irreplaceable", which had led to the decision, said the statement.
"Franklin Zoo's dedicated staff are all deeply saddened by this decision, but understand that Mila and all of our animals deserve to live lives that are as full and enriching as possible. We are grateful that they will continue to work with us, to achieve this."
Former circus elephant Mila crushed Dr Schofield to death in her enclosure in April.
She had planned to send the elephant to a Californian rehabilitation centre for former circus and zoo animals called Performance Animal Welfare Society, or PAWS, where she could live out the rest of her days with other elephants.
"We will not give up on Helen's dream, and we believe that the best way to honour this is to focus resources into our goal of working towards Mila's relocation to a facility overseas so that we can try to secure her future," said the statement.
Trustees were working to find homes for the animals, and staff were preparing Mila for her relocation overseas.
To donate to the Franklin Zoo Charitable Trust, go to www.franklinzoo.co.nz.
- APNZ