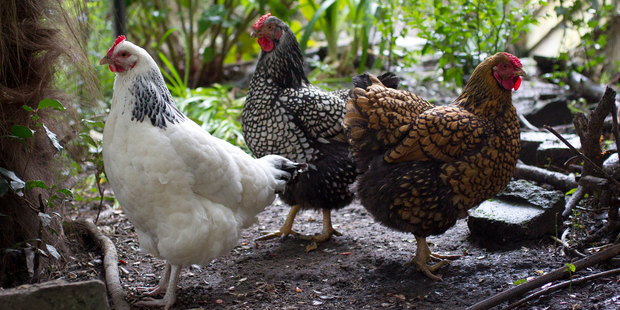 Wendyl Nissen is vowing to catch the owner of a dog which attacked two of her beloved chickens.
The Weekend Herald's Wendyl Wants to Know columnist, who lives in Grey Lynn, has been away with her partner, Paul Little. However, she took to Facebook to vent after her daughter told her a Jack Russell had killed her beloved chook Honky and mauled another, named after a Kardashian sister, so badly that it had to be put down.
The owner of the dog then took off, leaving Nissen's daughter to deal with the aftermath.
"Disaster. Jack Russell off leash and out of control killed 2 of our chickens," Nissen wrote.
"Grey Lynn friends if you see a guy walking a Jack Russell ask him why he ran off leaving my daughter to cope with the carnage including having to take a chicken to the vet to be put down. Coward. Then tell him to put his rabid dog on a leash before it kills more chickens and probably cats.
Oh and also tell him that I will find him when I get home. That's a promise."
She finished by leaving a tribute to her beloved hens: "RIP Honky the head chicken who died protecting her sisters and Khloe our best layer."
Nissen's other chooks, Olive, Mummy and Kourtney, survived.
Hannah Nissen-Ellison, 23, was inside her mother's home on Saturday morning when she heard the five hens squawking.
She raced outside thinking a cat might be on the property. But it was a dog.
"He [the dog] was getting into them. He was just ripping feathers and skin out. The dog looked like it was having fun; it looked like it was a game.
"I could hear this man's voice from the street. He was yelling, 'Do you have chickens? If they've gone up the trees they'll be all right'."
Ms Nissen-Ellison shooed the dog towards its owner, whom she described as white, middle-aged with dark hair. He apologised, but she doubted his sincerity when he didn't stick around.
Ms Nissen-Ellison said the owner had to take responsibility for his dog.
She hoped he would come forward to apologise properly.
She had a warning for the neighbourhood, which is popular with chicken lovers, that they should be more vigilant about their safety.
Owners whose dogs attack people, stock, poultry, domestic animals or protected wildlife can be fined up to $3000.