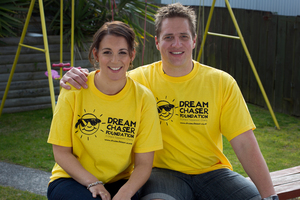 The parents of Chace Topperwien, the little boy who captured the hearts of thousands with his brave battle against leukaemia, have set up a charity in his name.
The Dream Chaser Foundation - A Chace Topperwien Charity - will benefit children with cancer and their families, Ronald McDonald House, grieving families who have lost children to cancer, and post-graduate students studying childhood cancer or related therapies.
It will also raise awareness of bone marrow donation and encourage more donors in New Zealand, particularly Maori and Pacific Islanders.
Ryan and Keri Topperwien said they had ambitious plans to create a legacy for their 3-year-old son, who died on June 15 following a 15-month battle with a rare and aggressive form of leukaemia.
"It's all for Chace," Mrs Topperwien said. "Because Chace is the motivation, we know it [the charity] is never going to run out of steam, because he never did. We feel obligated as his parents to do it and we feel him helping and guiding us."
Mr Topperwien said he and Keri needed something positive to come from Chace's fight with cancer and to know "it wasn't all for nothing".
They said their son was always concerned about the health and wellbeing of others, despite his own serious illness, so it was fitting they should continue his caring attitude through the charity.
The couple want the foundation to support children facing cancer and their families through practical means such as relieving financial hardship, supplying petrol and grocery vouchers, and birthday gift cards for sick children. Another goal is to fund up to six more bedrooms at a new Ronald McDonald House in Auckland where the families of children receiving treatment for any life-threatening illness stay. "Without Ronald McDonald House we couldn't have stayed in Auckland for six months while Chace was having treatment," Mr Topperwien said.
They also want to set up a bus to collect people in remote locations who want to go on the bone marrow donor register and take them to the nearest blood donation collection point.
When Chace, who was part Maori, needed a bone marrow transplant, the couple could not find a match for him and he had to have a stem cell transplant.
The Topperwiens, both 28, are setting up the charity with money that was raised to get Chace on to an expensive British drug trial, which was unsuccessful. And they have the backing of expatriate businessmen Eric Watson and Owen Glenn, who will officially launch the foundation at next Saturday's Warriors home game against the Newcastle Knights.
Mr Watson, who co-owns the rugby league team with Mr Glenn, said he was keen for the Warriors to support the charity.
Mr Glenn said they wanted to give it the best possible launch and he encouraged Kiwis to get behind it.
"Ryan and Keri and their parents will be our guests that night and I'm confident that the Warriors will play the game of their lives in memory of Chace."
A promotional video on the night will feature six children with cancer who blow up a yellow balloon with their dream on it. And bidders on a Trade Me auction can win Warriors' game packages and a backyard league clinic.
The Topperwiens said they were excited about the launch and grateful to the Warriors and everyone who had supported Chace.
They also hope to launch a website, www.dreamchaser.co.nz, with details of the charity soon.