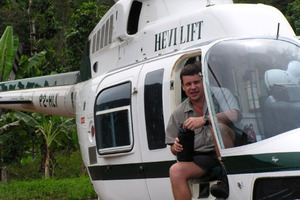 After a week of hoping for a miracle, the worst fears of an Alexandra family were realised when the wreckage of a helicopter missing in Papua New Guinea was found yesterday with the bodies of the three crew inside.
Helicopter pilot Antony Annan, 49, formerly of Alexandra, and two Australian colleagues were found dead in their Bell 206 helicopter near the Purari River. The wreckage indicated a crash landing.
"We've been waiting and hoping they might be okay ... and you hope maybe, somehow, they'd survived, but now we've been told all three are gone," said Mr Annan's brother-in-law, Ken Lloyd, of Alexandra.
"Our only consolation is that their bodies have been found ... Finding them was important to us."
Mr Annan's brother Matthew, also a pilot, died in a top-dressing plane crash in Australia in 1998, aged 28.
Mr Annan was based in Australia and had worked for charter company Hevilift for more than 10 years.
Before heading overseas, he worked for Helicopters Otago. Managing director Graeme Gale described him as a "great guy and a great pilot".
"Something's gone catastrophically wrong for them to have this tragic outcome."
Central Otago Flying Club president Russell Anderson knew Mr Annan at school.
"Alexandra's a small town and everyone knows the Annan family ... The family's been through a tragedy like this once before and now they're going through it twice."
The helicopter was reported missing nearly eight days ago. It was flying in low cloud and reduced visibility when it disappeared. Otago Daily Times, APNZ
- APNZ