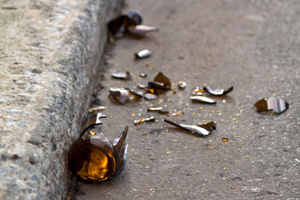 Boozed youths - some as young as 12 - are continuing to cause problems near the Christchurch suburb of Templeton.
For the second time in a month, police were forced to close part of State Highway 1 on Saturday night, after more than 100 drunken youths spilled on to the road. Five were arrested.
Inspector Bryan Buck said the youths congregated on the road after a party held at a property opposite the Islington Tavern closed.
He said the youths had not been drinking at the tavern.
Tavern duty manager Mandy Parke said police turned up at about 9pm. Last time they arrived about midnight to close the party, she said.
Miss Parke said the youths were as young as 12, but most were aged 15 to 16.
Inspector Buck said team policing staff from Christchurch South were called to assist the general duties police in Templeton.
"The road was closed for a short time while the youths were moved off ...
for their own safety and the motorists.
"During that process five were arrested, probably for disorderly behaviour," he said.
Inspector Buck said the party-goers were at risk of being struck by cars - one party-goer even played chicken with vehicles.
"I heard one pretty intoxicated individual had run towards an on-coming vehicle but that was a one off. It didn't appear to be widespread."
The same night police were forced to close a Woolston nightclub, in Ferry Rd due to drunken disorder.
The bar owner criticised the behaviour of the police as one woman was allegedly dragged on her knees with such force that her dress came off, exposing her chest.
Inspector Buck said the majority of the Templeton crowd moved on after being told to leave the area.
"There are a range of tactics we can use. First we verbally request they move on. We always use the least amount of force to enforce our objective.
"The majority just move on.
"But unfortunately with the effects of alcohol you get a few that don't."
Inspector Buck said some parties held by youth sometimes ran the risk of getting out of hand as the word spread through texts and on social networking sites.
"At the end of the day you've got some responsibility over the people you have at your private function. You've got to make your best endeavours to keep numbers to a manageable level.
"Police are there to help people who want to have responsible events and will only intervene where it's absolutely necessary."
- APNZ