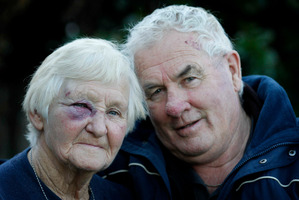 An elderly Tokoroa woman who was punched to the ground when confronting three men says she is relieved police have made arrests.
But she says the walkway where the incident happened is still open and she won't sleep any easier until the local council closes it.
Tokoroa police last night confirmed that they had arrested two men aged 21 and 18 over the attack on 75-year-old Margaret Gabolinscy and her 73-year-old husband, Bob, on June 28.
The young men appeared in the Tokoroa District Court charged with assault. The matter was adjourned to a future date.
Earlier, the Gabolinscys told the Herald they had confronted three men who were carrying pre-mixed alcoholic drinks and vandalising a corrugated fence separating their home and the walkway neighbouring it.
Mr Gabolinscy told the men to stop but they instead hurled full cans of the alcoholic drinks at him, leaving a gash on his head.
Mrs Gabolinscy then went up to them and told them to go away and was punched in the face, resulting in a fractured cheekbone.
Mrs Gabolinscy told the Herald it was a relief that arrests had been made. She was still suffering pain from the attack and had taken time off her work as a toilet attendant.
She said she and her husband had been overwhelmed with support from the local community and from afar.
"We have had phone calls from people in Australia and up north - people we don't even know. Others bringing us fruit baskets, cakes and chocolate and some lovely emails, people have been wonderful.
"You wouldn't get this happening to you if you were living in the cities, that's why Tokoroa is a wonderful place and we wouldn't leave it for all the tea in China."
A survey on the district's walkways carried out in 2008 - two years after Mr Gabolinscy featured on the front page of a newspaper wanting the alleyway closed - resulted in four walkways being closed.
But the walkway next to the Gabolinscys' property was not identified as a priority at the time.
The South Waikato District Council is now considering closing it.
"There are still undesirables who use these walkways," said Mrs Gabolinscy. "I commend the police highly for what they have done but now the council have to come and do their part."