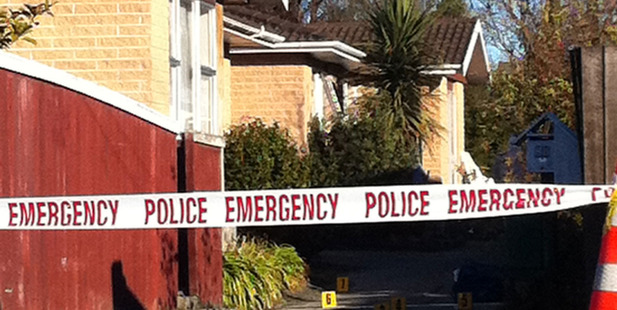 A man has been charged with the murder of a woman in Burwood, Christchurch this morning.
A 29-year-old Kaiapoi man was arrested this afternoon.
Detective Senior Sergeant Tony Hill said the man was interviewed by police this afternoon before being charged with murder.
He will appear in Christchurch District Court tomorrow morning.
The woman's body was found in an earthquake-damaged home about 10.15am.
Her name has not been released because next of kin are still being notified, police said.
A post-mortem examination will be conducted tomorrow.
A large police cordon today surrounded the front-section of a Travis Rd flat in the badly quake-hit suburb of Burwood, bordering Parklands.
The cordoned area included two other houses, both abandoned, and police set up an inquiry caravan in one of the driveways.
Mr Hill said the early arrest was "a positive result for police and came about as the result of good investigative work''.
"We are continuing to talk to people associated with the victim and our forensic work will also continue for some time as we put together a picture of what has occurred,'' he said.
A team of 20 police officers and environmental science and research staff are working on the investigation.
Police expect the scene examination to continue for several days.
Police today went door to door asking residents if they heard anything suspicious overnight, as they try to piece together how the woman died.
This afternoon, ESR (Environmental Science and Research) staff were searching the front room. The curtains were pulled and police officers guarded the cordon.
One neighbour, who lived behind the property but moved out after last June's earthquakes, knew the young man who lived in the flat.
Doug Hunt, who now lives in Rangiora, said the youngster was "an awesome young guy''.
"I've known him and his family for years, so when I heard I phoned his father - he'd heard about it but did not elaborate,'' Mr Hunt said.
"I would not consider he's done anything. He is a happy person who lives for his young kids.
"He's lived there for a little while with his new partner and was really getting on his feet.
"He would have gone to work early this morning. I'm sure he's as shocked as we all are.''
Valerie Abrey, who lives next door with her husband Ron, said a young couple lived in the flat.
She thought the blonde woman was in her early 20s, and they both worked.
Mrs Abrey didn't hear anything out of the ordinary overnight, or this morning, but did notice a light on when she got up at 6.30am.
"I feel sick in my stomach,'' the retired woman said.
"I hate this place but I hate it even more now.
"We didn't have much to do with them, but them seemed like a nice couple. I hope it's nothing sinister.''
Another neighbour to the rear of the property was terrified by the discovery.
She told APNZ that she heard "teenage'' girls laughing and giggling in the houses in front of her at about 8am.
Vicki Stikkelman, 48, said she did not hear anything untoward overnight, but was wondering what the girls were doing in the morning.
"There was a lot of young girls carrying on. It was quite high-pitched shrieking. I thought it was a bit weird, especially since those houses are abandoned,'' she said.
Most of the houses on Travis Rd suffered quake damage in February last year.
It was a quiet area until then, she said, but residents had become concerned by burglaries and arsonists since the tremors.