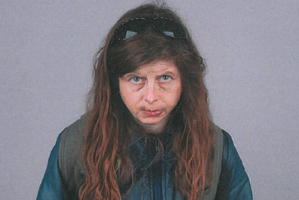 Police investigating the unexplained death of a Wellington woman have released a photo of her wearing the same clothes she was found dead in on Mt Victoria.
The body of Newtown woman Sofia Helen Athanassiou, 39, was found by a group of joggers near a popular running track near Alexandra Park, above Wellington East Girls' College, about 11am on Monday.
Detective Inspector Paul Basham told a press conference at Wellington police headquarters today that a post-mortem examination, completed yesterday, had been inconclusive.
"Police are now awaiting the results of further laboratory tests which may help explain how or why Sofia died. Those tests could take up to six weeks.''
The coroner would ultimately determine the cause of death but police were still treating it as unexplained.
"The aim of the police investigation is to establish how or why Sofia died.''
Mr Basham said Ms Athanassiou's family had asked for privacy and space while they tried to come to terms with her death.
"Our deepest sympathies are with Sofia's family during this very difficult time,'' he said.
Detective Senior Sergeant Donna Howard, who is now leading the investigation, said a photograph released today showed "the exact clothing that she was wearing at the time''.
Ms Athanassiou had suffered minor injuries but the post-mortem confirmed they had not contributed to her death.
Ms Howard said police were still trying to piece together Ms Athanassiou's last movements.
"We do know that she was with some friends at about 8.30am and we're still trying to sort out her movements from then on,'' she said.
"Now that we have a photograph to release of her, we hope that that will trigger any people who may have seen her on Monday morning.''
She reiterated a call for information from anyone who was in the Alexandra Park/Mt Victoria town belt area about 11am Monday, or who may have other relevant information about Ms Athanassiou's movements before her death.
Asked if foul play had been ruled out, Ms Howard said the death was still being treated as unexplained.
She would not go into detail about Ms Athanassiou's background, saying it was a trying time for her "very private'' family, but confirmed she had relatives in the Wellington area.
"We're just taking things slowly. We owe it to them to give them some answers.''
Ms Athanassiou was unemployed and lived at a property in Newtown.
Asked if Ms Athanassiou had a history of mental illness or addiction, Ms Howard said she would not go into detail, but that would be a factor in the police inquiry.
Toxicology test results would take some time to come through, she said.
Twelve investigators were working on the case.
- APNZ